Electric scooters are a great way to navigate through cities and neighborhood without consuming much in gas. "Best electric scooter for under 300" buying guide examines some budget friendly scooters that will ease your daily struggles commuting to work.
If this is your first electric scooter then you may opt to go with something budget friendly as you get the feel of the ride before moving to pricier models. For some people scooters are for child's play but a rise in city traffic jams has led to commuters searching for alternative modes of transportation.
At the $300 price range, we have a considerable amount of scooters that combine speed, versatility, and awesome features. While these kind of scooters won't hit high top speeds they will enable you commute with ease. This guide, looks at the best electric scooters for under $300 and we tell you which one is the best.
Best Electric Scooters for Under 300: Compare
| Model | Power (watts) | Speed (mph) | Check on Amazon |
| --- | --- | --- | --- |
| | 250 | 15 | |
| | 250 | 15 | |
| | 250 | 15 | |
| | 250 | 12 | |
| | 100 | 10 | |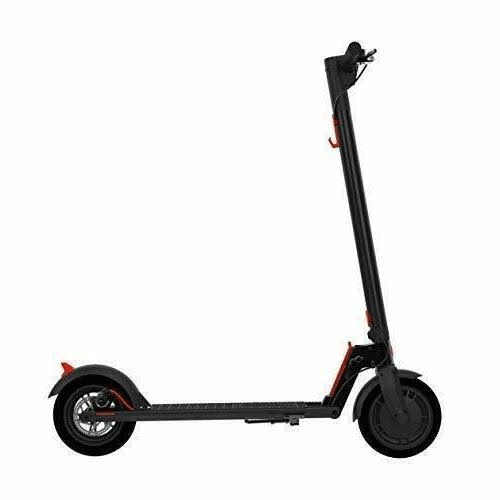 Due to its easily foldable nature the Gotrax is an excellent companion for those doing daily commuting or college students. Weighing just 27 pounds the Gotrax can be folded and stored in the office or a locker. The Gotrax is driven by a modest 250 Watt motor that is capable of taking the scooter to a high speed of 15 mph. This is pretty decent for those planning on doing daily commutes. We are including as first choice on our "Best electric scooter for under 300" Review.
The 8.5" pneumatic wheels are large enough to absorb vibrations and potholes in city traffic. You can ride the Gotrax for 12 miles before the next charging session. Charging should take your 4 hours. You can do this at night or at your office. The scooter comes with a battery indicator that shows you when you are running low on charge.
The smart display not only shows you remaining battery life, but is also vital for showing scooter speed and distance covered. The Gotrax can tackle a weight of up to 220 lbs. and is overall one of the best scooters for urban use.
Pros
Easy to fold and carry
Modest speed
Low battery charge time
Stylish and ergonomical design
Cons
May not handle hilly terrain well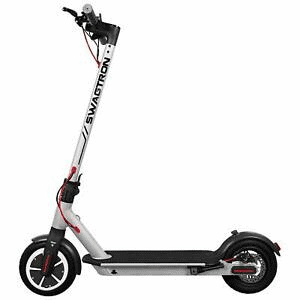 Swagtron is a well-known brand when it comes to electric scooters. This particular model is affordable and is accompanied with awesome features that make it ideal for urban commuting. Weighing in at 27.5 lbs. the Swagtron easily collapses for easy storage in your car trunk and other small spaces.
Power to the Swagtron is delivered through a 250W hub motor that is able to deliver 15 to 18 mph and handle hill inclines of up to 20 degrees. This speed will get you to and from work with ease. You can maneuver through city traffic and sidewalks with ease due to the Swagtron compact design.
Depending on your speed, terrain, and weights the Swagtron Li-Ion battery is able to recharge in about 3.5 hours and this gives you 6 to 12 miles before the next charge. This short charging time means you can plug in your scooter for charging at any time in your office.
The Swagtron is suitable for all persons and can support weights of up to 320 pounds. This means you can buy it for your teens or ride it yourself.
Pros
Average speed
Fast recharging times
Frame made from durable aluminum
Easily foldable and portable
Cons
Razor E300S – best scooter with detachable seat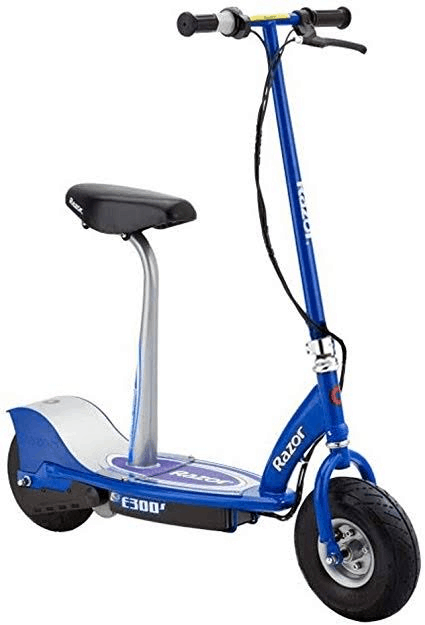 If you are going to be commuting for long you may as well purchase a scooter with a detachable seat. The Razor E300S offers this and much more. It comes with a powerful motor that will enable you navigate city traffic with ease and even handle some steep hills. The seat is padded making it very comfortable even when going over bumps.
The frame of the bike is built to support older riders. The design is simple yet functional. Power is through a chain driven motor that is capable of reaching speeds of 15 mph. This gives you around 45 minutes of charge which is adequate to get you to and from the mall. The scooter can accommodate weights of up to 220 lbs.
When it comes to the tires you get large and wide 10" pneumatic tires that can handle a variety of terrain with ease. The tires also prevent from tipping over at higher speeds. Some additional features with the scooter will include rear brake, twist-grip acceleration control, and retractable kickstand.
Pros
High torque to climb hills
Comfortable padded seat
Large 10" pneumatic tires
Ergonomical design that supports persons of all weights
Cons
Chain drive motor can be noisy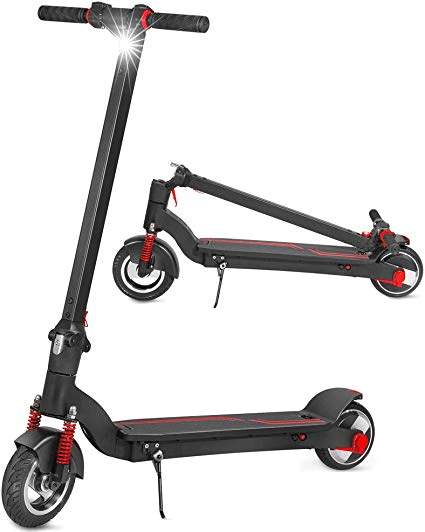 While this brand is not well known the scooter will help in your daily commute to and from work. This scooter comes with an ergonomical design that is well suited for navigating in between traffic jams and sidewalks. The price is just right for someone who is looking for an affordable scooter for daily commuting or a student in need of something to get them to college.
The ROCKETX is powered by a 250W that enables it to reach a maximum speed of 12.4 mph. While this is not the best speed for a scooter it will get you by if you are not in a hurry. You will also be able to travel for about 15 miles before the next charge. You also get extra shock absorbers for extra comfort when navigating rocky terrain. The scooter comes with a headlight for those night rides. You also get large 8" tires that are well capable of absorbing shock.
While the ROCKETX is not the best scooter out there it will get the job done.
Pros
Simplistic design
Easy to carry and fold
Shock absorbers for rough terrain
Easy to charge
Cons
Scooters were a common feature with kids but know adults have joined in the fun. If you are still on the lookout for a birthday present for a child who is more than 8 years old then the Razor E100 is your ideal choice. Firstly, the scooter comes in several colors like black, green and blue.
Power to the scooter is through a 100-watt chain driven single speed motor. This is capable of pushing the scooter to speeds of up to 10 mph. This is adequate for your child who just wants to have some fun outdoors without getting hurt. A 24V lead acid battery that gives you 40 minutes of riding time supports the motor. Lead acid batteries while affordable do not contain as much power as the lithium ion ones. They also require more maintenance. But, since you are purchasing this for your kid who does not do daily commutes the battery will serve your just right.
The Razor E100 comes with 8" pneumatic tires that will absorb shock as your move along bumpy terrain. The scooter design is make with long lasting steel and fork that protects the scooter from occasional bumps. It takes one an average of 4 to 6 hours to fully charge the scooter.
Some additional features that are added to make your scooter ride comfortable include soft rubber grips that come with twist acceleration control, retractable kick stand, foldable handle bars, and hand-operated caliper front brake. The Razor E100 can handle a weight of 120 lbs.
Pros
Large pneumatic tires
Moderate speed of 10 mph
Comfortable handlebars
Durable steel frame
Cons
The chain drive motor can be noisy
Best electric scooter for under 300 – Buying Guide

Electric scooters come in all manner of accessories and features. We have slow ones that do less than 20 mph and more powerful ones that are capable of hitting speeds of up to 40 mph. The main purpose of getting a scooter will determine the kind of budget you allocate to a purchase. With increased traffic jams been experienced in cities, commuters are looking for environmentally friendly ways to get to work without necessarily spending a lot of gasoline. If you are looking for something budget friendly consider the following key factors.
Portability
Once you make your daily commute to work or college then next step is how to store your scooter. An ideal budget friendly scooter should be lightweight and portable. It should fold easily while giving you the ability to store it in small spaces. Portable scooters can be stored under the metro train, at the office or the classroom without inconveniencing others.
Power
Power can either be through a lead acid battery or lithium ion. The lead acid battery is common in most budget scooters. It will supply power of about 250W but it comes with the downside of been less durable and requiring more maintenance. Lower battery powered scooters cannot handle hills with steep ascents which can be a problem if you are commuting to such areas. For more power go for scooters with over 500W. You will also need to know whether the scooter is chain or belt powered. Belt drive scooters are the most silent but the belt requires occasional changing due to wear and tear. The chain drive motors are noisier but last longer than the belt drive. You will also notice that more high speed scooters will opt for the chain driven belts.
Speed
Modern innovations have led to pretty fast scooters capable of achieving speeds of up to 40 mph. however, this are pricier and will often come with dual motors capable of churning out over 2000 watts of power. For most commutes a scooter that is capable of doing 15 to 18 mph is enough. Remember to wear protective head gear when traveling at this speeds.
Smart apps
Modern scooters now come with cool features like Bluetooth connectivity. This allows you to communicate with the scooter and get information like speed, distance travelled and battery life. You can also choose your drive modes, engage alarm systems, and disable lighting.
Braking
What would an electric scooter be without the right braking. Scooter brakes differ at the bottom of the pyramid is the regenerative braking system followed by the foot brake. The later is used in most kids scooters and you activate it by pushing your foot to the rear fender. This braking system is ideal for low speeds. The drum brakes are found inside the wheel hub. This are ideal when you are riding in wet climates. The best brakes are the disc brakes. This offer more stopping power even under high speeds.
Disc and drum brakes: they're the best brakes and that's what you should be looking for when buying an electric scooter. Their downside however is that they wear out with time, they require maintenance or have to be replaced over time.
Electric brakes: they don't need to be regularly maintained like Disc and Drum brakes but they're not effective when it comes to stopping or slowing down your scooter.
Foot brakes: This are the manual brakes and they take some time to get used to, but if you're used to scooters for kids, you won't find any problem working with foot brakes.
Comfort
The tires will determine the general comfort of the scooter. You can either have air filled or not air tires. The air filled tires are great for absorbing shock and vibrations but come with the downside of been high maintenance due to punctures and constant air refills. The non-air tires are zero maintenance but will give you a bumpy ride in rough rides. Also, ensure your scooter comes with the right kind of suspension. This is great for absorbing shocks when riding.
Materials
The materials used for the construction will determine the durability of the scooter. While a cheaper scooter may seem ideal you will experience constant breakdowns that lead to higher costs of repairs. While it is not a rule make every effort to purchase your scooter from reputable companies. This does not mean you ignore upcoming scooter companies.
Quality of ride
This is the first thing to check, some designs look great but when you begin to ride them you realize that it's better to walk on your feet, some are just 'bone shakers'. You want to get an electric scooter that provides comfort even on rough surfaces, most electric scooters will be good on smooth roads but when tested on rough surface or uphill, you'll end up getting stuck. The quality of your ride will be affected by three main factors and they're as follows;
The wheel size: If you're an adult you should avoid small wheels, anything thing less than 8-inch diameter won't provide enough comfort. But for kids, they can still do fine with smaller diameter.
Air-filled Vs solid tires: Air-filled tires offer more comfort than solid tires, but solid tires are preferred when riding on places with nails, thorns, or glasses. They're ideal on rough surfaces with lots of particles that can puncture the tires. But when riding around the city on clean road, Air-filled tires are better, they'll significantly absorb shock when you hit bumps.
Suspension: Electric scooters without suspension and have large air-filled tires will provide a smoother ride than an electric scooter that comes with suspension but have solid tires and smaller wheels. The best choice is to choose a scooter with air-filled tires with large wheels but no suspension, or select solid tires with suspension.
Electric Scooter FAQ – Answers To Common Questions
Conclusion
Electric scooters are the new craze to fight rising gasoline prices and city traffic. In this case we helped you with the "Best electric scooter for under 300" review. They are easy to operate and you can fold them after a day journey. Improvements in battery output have led to electric scooters capable of speeds of up to 40 mph and with ranges of over 40 miles. A budget friendly scooter works great for your daily commute or if you are looking for a birthday gift for your teen. GOTRAX GXL V2 is a good choice and that's why it's the first in our list. Give it a try and you'll enjoy riding it.