Increasing traffic jams, high gasoline prices, and rising living standards have forced many people to reconsider using electric scooters for their daily commute. The scooter allows you to get to your office fast while you enjoy the cool breeze during rides. But, for them to be ideal for commuting the scooter has to be easily foldable. In this case, we will help with our "best foldable electric scooter" guide.
The electric scooter market has changed a great deal from the days of kick-start scooters. Today, you have faster and more efficient scooters that are capable of hitting more than 30 mph. While most scooters are foldable, how this is done and the eventual size of the scooter varies. In this guide, we check out some of the best foldable electric scooters in the market.
Best foldable electric scooters Compare
| Model | Power (Watts) | Speed (mph) | Check on Amazon |
| --- | --- | --- | --- |
| | 250 | 18 | |
| | 250 | 15.5 | |
| | N/A | 15 | |
| | 500 | 28 | |
| | 500 | 15 | |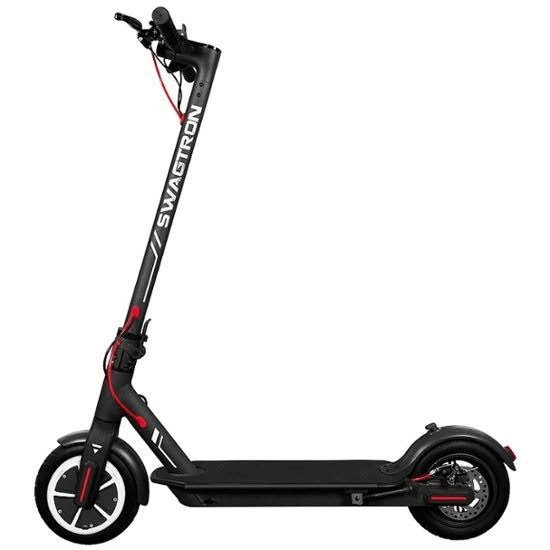 This 27.5 lbs. easily folds so that you can store it beneath subway seats, in your car trunk or some small space in the office. One folded it is easy to carry around due to its lightweight design. Besides, being extremely portable the Swagtron also comes with a powerful 250W electric hub motor that enables it to ride at speeds of 15 to 18 mph. It also can handle steep hills of up to 20 degrees.
The aluminum frame is sturdy enough to handle weights while not been heavy enough to carry. An LED screen displays your battery level, current speed, Bluetooth status, and headlight function. You can use the Swagtron for 11 miles before the next charge. New additions to the scooter include Android and iOS connectivity. This allows you to pair your smartphone with the scooter and plan your route through GPS or activate cruise control.
The battery can be charged in 3.5 hours and this enables you to handle 6 to 12 miles depending on the speed. The sturdy aluminum frame can support riders weighing up to 320 pounds. The tires are pressure inflated so you need to keep a constant eye on them to avoid punctures.
Pros
Easily foldable and portable
Modest speed of up to 18 mph
Bluetooth connectivity
LED display for speed and battery life
Cons
Pressure tires are subject to deflation
This scooter combines a simple, sleek design that stands out when riding it. In fact, if you are not careful you may confuse it for a toy but the Gotrax GXL is a premium scooter that comes with a powerful 250 Watt motor that is able to deliver a top speed of 15.5 mph
The Gotrax GXL comes with a dual braking system which is an awesome addition for a scooter for its price range. You can control the rear disc brakes through a foot pedal. In addition, you can also bring the scooter to a halt through an electric regenerative anti-lock system.
To enable your cruise the streets with ease, the scooter comes with 8.5" air-filled tires. These tires will absorb shock and offer a very smooth ride. On the downside, air-filled tires like those in cars are subject to punctures and deflation. The handlebar has a display where you can view scooter speed and battery life. The Gotrax headlights come in handy when you are driving at night.
The Gotrax is IP54 water-resistant meaning you do not need to worry about getting caught in the rain after a hard day of work. When compared with similar scooters with similar features, this scooter is affordable.
Pros
Great scooter design makes it appear sleek
8.5 air-filled tires for smooth rides
Bright headlights for riding in the dark
Easy to fold and pack
Cons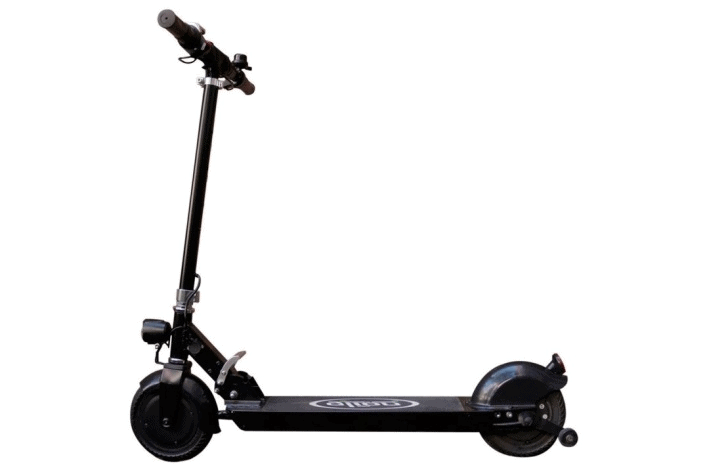 It is hard to mention the word electric scooter without mentioning Glion. The company is known for producing high-quality scooters that are durable and loaded with cool features. This model easily folds in a few simple steps. It also comes with an innovative pull-out trolley handle. This enables you to drag the scooter around.
The Glion Dolly scooter is recommended for persons of all ages. The body frame is made from durable 6061-T6 aircraft grade aluminum sturdy frame that is coated with a special corrosion resistant powder that ensures it still looks new several years to come.
Power to the scooter is through a 36V lithium battery 7.8A that gives you 60 to 70 minutes of ride time at a top speed of 15 mph. Charging time is a modest 3.5 hours. Lastly, you do not need to worry much about deflating your tires as the Glion comes with flat air-free thick tires.
Pros
Pull out trolley handle for easy carrying
Longer ride time
Bright headlight with reflectors
Folds very easily
Cons
Lack of a proper suspension system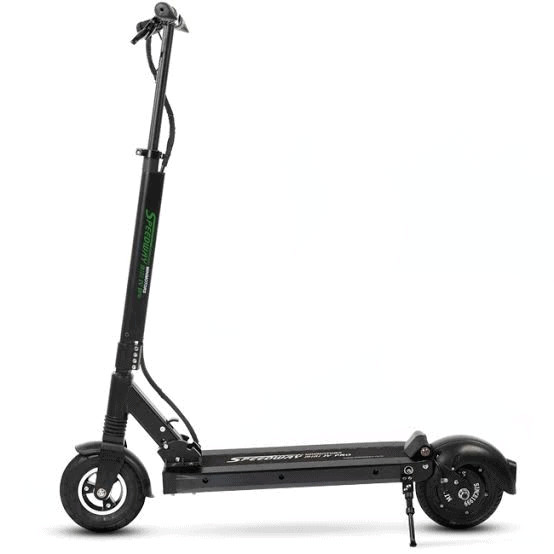 A reputable company called Minimotors backs the scooter production. This means consumers are guaranteed a high-quality product that is meant to last for long. This scooter comes with a simplistic design that makes it easy to fold after commuting. It is suitable for students and those looking for an alternative to gasoline.
A 500W hub motor that is well able to push the scooter to speeds of over 25mph. peak powers the Speedway Mini Pro. This gives it a peak power of 1360W. If you check the advertised material for the Speedway Mini Pro you note that the top speed is 28mph. This speed can only be achieved for lightweight riders.
While the Speedway Mini Pro may look like a toy it can hold on to a weight of up to 260lbs. The deck is large enough to accommodate large people. For longer rides, the scooter comes with a detachable seat. Charging time is modest at 5 hours. This gives it a range of 30 miles.
Pros
Long-range
Can accommodate large persons
High top speed
Simple and ergonomic design
Cons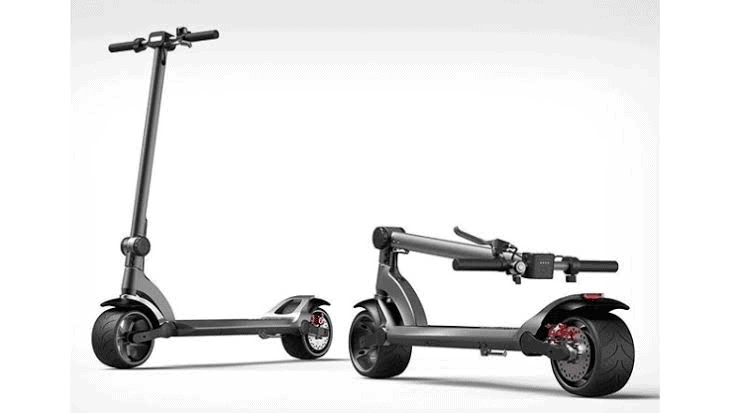 You have probably not heard of this brand of scooters and this is because Mercane, a company based in South Korea, produces them. However, this does not mean you are going to have challenges with quality. The scooter is well able to compete with other top brands in the market.
The Mercane Widewheel gets its power from a 500W BLDC hub motor that is capable of generating a top speed of 15 mph and with a range of 20 miles before the next charge. The scooter's powerful motor allows it to make steep ascends and cruise on flat surfaces with ease. If this is not enough, you can get a more powerful motor that is capable of generating 634W of power, and with a range of 30miles.
The Mercane gets its name Widewheel due to its wide tires that measure 3.9 inches. This is way larger than other scooters in the market and offers great stability when cruising at high speeds. With the wide tires, you do not even need a kick start to hold it in position as it stands on its own. To help you absorb vibrations during rides, the tires are made from polyurethane form and are covered with rubber. Due to the smallness of the tires at 8" this is not an ideal scooter for cruising through potholes. It also comes with dual suspension to enhance your ride in uneven terrain.
The scooter comes with a locking mechanism that is located on the handlebar. This makes it hard to unfold for some people. But, when folded it does become compact and occupies a small space. The LED display is a bit of a disappointment as it only indicates battery life. You won't get information like driving mode, speed or distance covered.
Pros
Wide wheels for extra stability
Dual suspension
Large range of up to 30 miles
High luminance LED headlight
Cons
The folding mechanism is a bit complicated
Buying Guide for the Best foldable electric scooter

Purchasing a foldable electric scooter is not that straightforward. The fact that it is easy to fold should be looked at with other factors in determining the ideal choice. Electric scooters are powered by electric motors that enable them to run for miles before the next charge. With increased traffic jams more commuters are opting for foldable electric scooters to get to and from work.
Factors to consider when purchasing a foldable electric scooter
Range
The range is the distance your electric scooter will run before it needs its next charge. One of the things you need to ask yourself is what are you going to be using your scooter for. Are you commuting to and from college or the office. A larger battery implies a heavier scooter. This makes it bulky to carry around with you. The range for most foldable electric scooters is around 30 miles. This is enough to get you to and from the office.
Once you have the right battery you next have to consider the charging time. If you are going to be using your scooter on a daily basis then go for average charging times of less than 5 hours. Advertisers will issue a certain range with their scooters but understand that range is affected by factors like speed, terrain, and battery power.
Speed
When electric scooters have introduced the speeds were limited to around 10 to 15 mph. Today, you have scooters that can hit speeds of 40 mph. The surface you are riding in will determine the kind of speed you ride your scooter in. Flat terrain allows you to hit top speed. If you are looking for something to navigate city traffic then an average speed of 15 mph is ideal.
Power
Electric scooter power is delivered through an electric motor. Most scooters have an average output of 250W but you will find some really powerful ones hitting over 2000W. Power can either be supplied by dual motors or single. You can also alternate between driving modes with the turbo giving you maximum power while economy allowing you to drive at low speeds but still efficiently using power.
Wheels
Your general comfort when riding the scooter will also be determined by the kind of wheels you get. Wheels are the first point of contact between your scooter and the ground. They offer traction and enable you to handle tough terrain with ease. Wheels are categorized into air-filled ones and solid ones. The air-filled ones are great for absorbing shocks from bumps and rough terrain but they are subject to deflation and punctures just like those in cars. The solid wheels do not require air but since you do not have air to absorb the vibrations they can lead to bumpy rides. They are zero maintenance and this makes them long-lasting.
Suspension
Scooters also have suspension. If you are handling some tough roads and do not have air-filled tires then the right suspension will make all the difference. Manufacturers will fix the suspension in either one tire or both.
Weight
If you are looking for the best foldable electric scooter then the weight is a major factor. The frame will sturdy enough to handle large weights should also be lightweight enough to carry around the office or to college. The average weight for a scooter is around 25 pounds but you will find some heavy-duty scooters weighing over 40 pounds. Also, ensure the scooter will handle your weight well. Most have specifications for the maximum weight they can handle – in most cases, this is around 250 pounds.
Conclusion
The electric scooter industry has undergone many transformations from the time kick start scooters were first introduced to the market. with increasing city traffic and rising gasoline prices, commuters are in search of a fast way to get them to the office and back without hassles. Electric scooters are now more comfortable and faster with some hitting speeds as high as 40 mph. Choosing the right foldable scooter enables you to tack in your scooter underneath the metro or in the office before your next ride. Hope that the "Best foldable electric scooter" review helped to make the right decision.