Commuting to work can be challenging with increased gasoline prices and increased traffic jams. This does not have to be the case if you invest in any of our "best electric scooter for commuting" selection.
The world is changing. You have more people moving to the cities and this has caused lots of congestion that has led to an increase in traffic jams. The time spent in rush hour traffic can be used in more productive ways if you invest in an electric scooter for commuting.
An electric scooter will get you to and from work with ease. When you get to the office, simply fold it and carry it with you for your next commute. The general assumption has always been that scooters are for children and teens, but you can get a lot of commute savings if you invest in one. Modern electric scooters are faster and more comfortable. This guide explores some of the top electric scooters used for commuting.
How electric scooters for commuting compare
| Model | Range (miles) | Speed (Mph) | Check on Amazon |
| --- | --- | --- | --- |
| | 12 | 15 | |
| | 40 | 40 | |
| | 15 | 15 | |
| | 18.6 | 15.5 | |
| | 11 | 10 | |
GOTRAX GXL – Most versatile scooter for commutes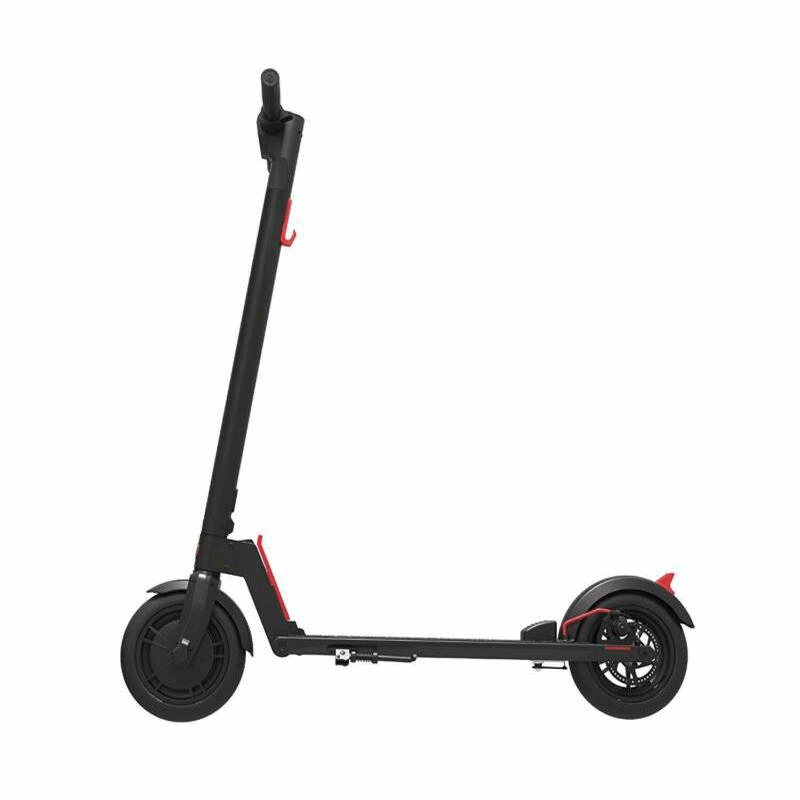 If you are thinking of using your scooter for daily commutes then you need something that is compact, lightweight, and portable. The GLX stands out due to its durable, low maintenance 8.5" pneumatic tires that enable you to easily navigate city traffic with ease. You also get cruise control, handbrake, lock mechanism, and a reinforced frame that can handle various weights.
The GOTRAX gets its power through a 250W motor that is capable of delivering a top speed of 15.5 mph. This is modest enough to navigate through city traffic while ensuring maximum battery efficiency. The battery is a 36V that is capable of doing 9 to 12 miles and can be recharged for 4 hours. This scooter can support weights of 220lbs. while the height of the handlebars to the deck is 38 inches. This enables the scooter to support very tall persons.
After your commute, you can easily fold the scooter for the next use. To give you greater control of the scooter during rides, it comes with dual braking systems. You also get variable speeds that help you change speeds depending on how fast you need to get to the office. One gear will give you a speed limit of 10mph while the other enables you to maximize power. The GLX has a sleek design that makes it ideal for both office workers and college students. The scooter also comes with LED lights for night travel.
Pros
Lightweight design
Large comfortable pneumatic tires
Easily foldable and portable
Quick recharge
Cons
Cannot handle hilly terrain with ease
NANROBOT D4+– Best for high speed and off-road rides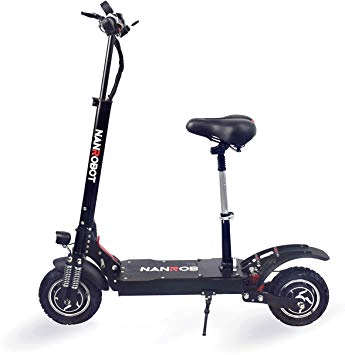 If speed is your main factor when it comes to a scooter then the NANROBOT is your scooter of choice. Firstly, dual motors supply power to all wheels. This gives the scooter great traction both on-road and off-road. The NANROBOT comes with two motors that supply 2000W of power. This enables the scooter to hit top speeds of up to 40 mph. The 52V23.4 AH lithium battery gives you a range of 45 miles and takes an average of 3-hours of fast charging time.
To enable you to handle all-terrain well, the NANROBOT is equipped with 5 shock absorbers and large 10" pneumatic tires. This scooter can adjust to any terrain you throw at it. With the top speeds, you can get to your office superfast.
Braking is through front and rear ABS disc brakes. This enables you not to be tossed over during emergency stops. The scooter folds in seconds and is compact enough for easy storage. You also get an intuitive LCD screen that gives you all the information about your speed, distance covered, and battery life. There is also a Bluetooth interface should you desire to connect the scooter with your smartphone.
Pros
Can handle all terrain
Superfast scooter with speeds of up to 40 mph
Aluminum alloy frame that is easy to carry
Can go for up to 50 miles
Cons
Glion Dolly – Most ergonomical scooter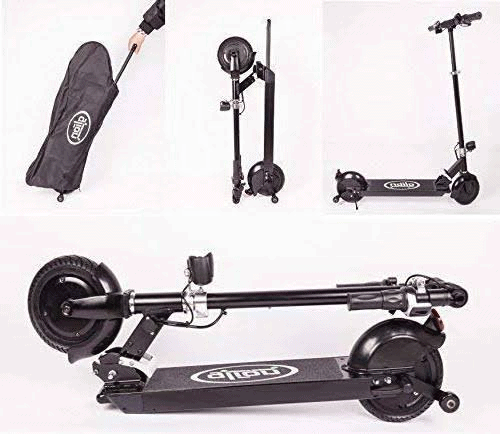 Getting to work with your scooter is the first hurdle you have to overcome, the second is carrying the scooter around in the office. If you have something heavy and bulky then you are going to experience challenges with storage – remember office space is often very limited. The answer to all your portability problems is the Glion Dolly scooter.
The scooter comes with a collapsible design that can be converted into a rolling suitcase in seconds. This makes it easy to drag along. The charging system is easy and ergonomic. You should get more charge in the office as you continue working. At just under 28 pounds, the Glion Dolly comes with a 36V 7.8Ah Lithium-ion battery that should give you a top speed of 15 mph and a mileage of 15 miles. It has a sleek design that makes it stand out during commutes. The brushless 250W motor is located in the rear wheel hence making the Glion dolly very stable.
The scooter does not use gears or chains and this makes it extremely quiet to ride around with. The frame is made from 6061-T6 aircraft grade aluminum which allows it to handle a variety of weights. The frame is corrosion resistant and this contributes to its durability. The 8" tires are smooth to ride with and do an amazing job of absorbing shock. Braking is a smooth courtesy of the anti-lock electronic braking system located close to the rear hub motor. The control panel is water-resistant so you do not have to worry about destruction in rainy weather. You can track the battery life from the scooter's handlebar screen.
Pros
Fast charging system
Lack of chains makes it quiet
Easy to fold and lightweight
Smooth braking
Cons
Not that fast of a scooter
Xiaomi Mi– Best scooter for beginners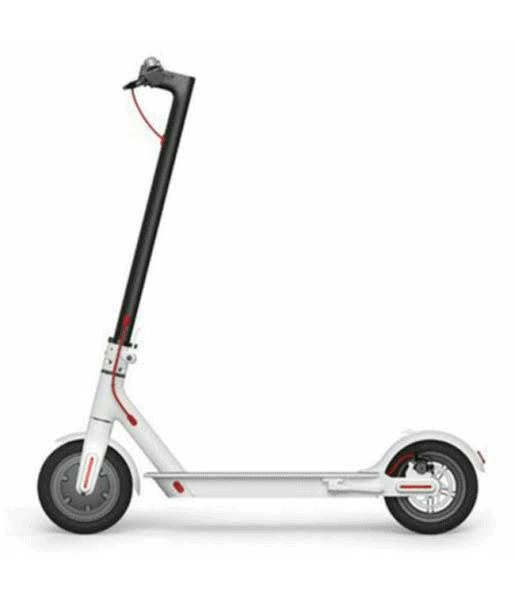 Xiaomi is a Chinese company that has made inroads in making high-quality products. This scooter is lightweight, sleek, and super-efficient. In just three seconds you can flip, fold, and clip your scooter into something compact for storage in the office. The basic design of the scooter enables you to maneuver city traffic and sidewalks with ease. At a weight of 26.9 lbs. this is one of the most lightweight scooters in the market.
Besides, portability you also require speed and power to be able to get to the office in time. The Xiaomi does just that courtesy of its 250W battery that is capable of hitting speeds of up to 15.5 miles and a range of 18.6 miles. This is the ideal scooter for college students and workers involved in daily commutes.
At high speeds, you will need to bring the scooter to a complete halt without falling over. The Xiaomi features a double braking system that combines the e-ABS regenerative anti-lock braking system and disc braking. The large 8.5" tires will bring respond to braking at a distance of 13.1 ft.
The Xiaomi has a minimalistic design that is easy to learn and therefore suitable for persons of all ages. It is also very safe to ride and with an aerospace-grade aluminum frame, you do not have to worry about it bending or breaking.
Pros
Headlights and taillights for night visibility
Fast charging time of 5 hours
Supports weights of up to 220 lbs.
Disc brakes for emergency stopping
Cons
Lacks intuitive LCD screen
Razor E100 – Most simple design for scooter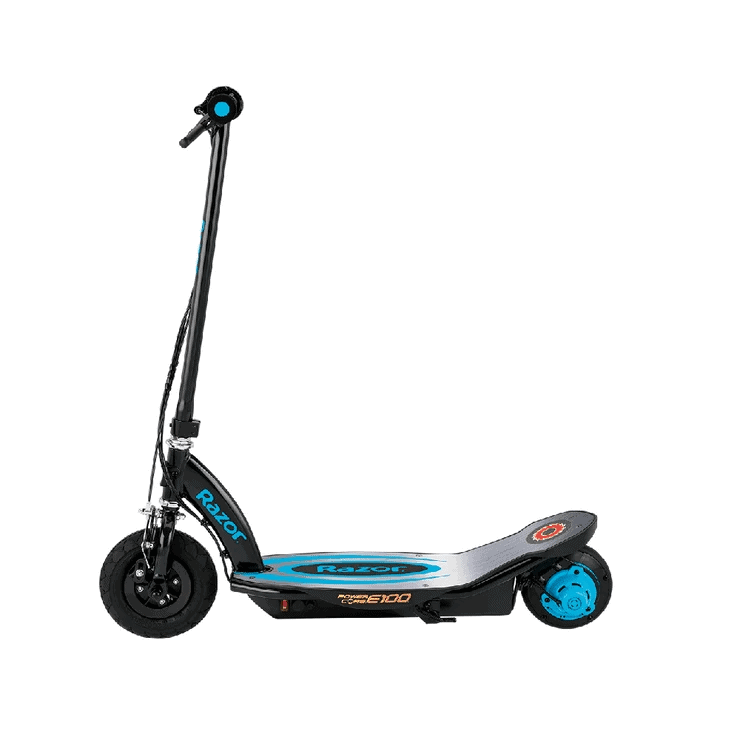 Our last scooter on the "Best electric scooter for commuting" review is Razor E100. For its size and awesome features, this has become a very popular scooter amongst commuters. It is easy to learn hence making it suitable for ages. We have included it on our list due to its affordability. Two lead-acid rechargeable batteries that deliver 24V worth of power enable the scooter to reach a speed of 10 mph power. Lead-acid batteries unlike lithium ones do not last long and may not deliver as much power as you would expect.
The Razor E100 gives one 40 minutes of the drive at a constant speed of 10mph. This is adequate to get you to work and back. On the downside, we found the charging system a big shortcoming. The 12-hour requirement for a full charge is way higher than the average of 4 to 5 hours common in most scooters. This will mean you need to recharge your scooter as you go to bed. In office charging are impossible.
Pros
Simple design
Easy to carry
Modest driving speed
Sturdy and ergonomic frame
Cons
Takes too long to charge
Buying Guide for the Best electric scooter for commuting
Cities are becoming more populated as more people move to towns in search of employment. The search for a living has also led to an increase in the number of motor vehicles on the road and this has in turn led to an increase in traffic jams. To mitigate this shortcoming more workers are opting to use scooters for their daily commute. Here are some factors you should consider before purchasing one.
Factors to consider when purchasing an electric scooter for commuting
Motor & Power
Depending on the distance of your workplace from home you need to consider getting yourself a scooter with speed. The power system of a scooter will consist of a battery that drives the motor. This can either be lead acid or lithium ones. The lead-acid batteries are the cheapest but hard to maintain and do not contain a lot of power like the lithium ones. If you are looking for something to commute with check out batteries with more than 250W of power. If you are going to be handling hilly terrain then the power of around 500W and above would be ideal.
Scooter motors can either run on-chain or belt drive systems. Both have their pros and cons. The belt drive system is quieter but still needs constant replacement and does not last as long as the chain drive. More powerful scooters will come with chain drives. The scooter motor is located at the hub of the wheel. Been brushless it means you have less friction and therefore less heat generation.
Top Speed
The battery and motor will influence the speed of the scooter. Some of the fastest scooters are known to hit top speeds of up to 40 mph. For commuting anything close to 15 mph works just fine. You also need to check out with your local city laws to uncover the speed limits. Some do not allow scooters to go over 15 mph.
Range
This is how much a scooter will go on a full charge. A range of 30 to 40 miles is okay for getting you to and from work. Note that range will also be influenced by rider weight, speed, weather patterns, and type of battery. Close to the range is the charging time. This is the average time it takes to fully charge your scooter. It is imperative you get how long or miles it takes you to get to work and back. If you have a scooter with a fast-charging system then you can recharge your scooter at work. Charging times of 3 to 5 hours are good but those offering more than 10 hours charging times can be frustrating to work with. You may also need to check out accessories been offered with your scooters like headlights, pedestrian bells, mudguards, or Bluetooth connectivity.
Conclusion
Having a scooter is a great way to commute to and from work. Scooters give you the flexibility to maneuver with ease of traffic jams. Today, electric scooters have a longer range of up to 40 miles and can travel at high speeds of over 45 mph. However, check with your city laws for scooter speed limits. In most cities, it is often 15 mph.