One thing you don't want to miss in college is class. The best electric scooter for college is an environmentally fast way to get to college without worrying about rising gasoline prices or traffic jams.
But the question arises, should I get an electric scooter for college?
If you are commuting to college daily, you are familiar with the frustrations of trying to get to class on time. The situation becomes worse if your city gets lots of traffic jams. Instead of waiting for years to save for your ideal car, you can get an electric scooter for college.
In the past, electric scooters were usually popular among the kids, but now even the adults have started riding it. The speed and range have also been improved in e-scooters. And today, we have scooters hitting speeds of up to 40 mph and ranges beyond 40 miles. You have ever bought an electric scooter before? or maybe you are confused about which electric scooter is an ideal college option. Therefore, in today's blog, we will talk about the "Best electric scooter for college." This buying guide offers essential tips you should examine before purchase.
So, what is the best electric scooter for college? Let us discuss now.
COVID Short Stock - What is in Stock This Period?
How electric scooters for college compare
| Model | Power (watts) | Speed (Mph) | Check on Amazon |
| --- | --- | --- | --- |
| | 250 | 15.5 | |
| | 200 | 12 | |
| | 250 | 15 | |
| | 250 | 15.5 | |
| | 350 | 18.6 | |
| | 350 | 19.9 | |
| | 2000 | 40 | |
| | 350 | 15.6 | |
| | 300 | 15.5 | |
GOTRAX GXL – Best scooter for commuting
The Gotrax is one of the best all-around electric scooters for commuting. It has an ergonomic shape, lightweight, and easy to fold. You can get to college in minutes without spending a dime on gas. The scooter is UL2271 certified, which makes it pretty safe to ride on.
The range is an essential factor when you are getting yourself a scooter for college. You don't want to run the risk of stalling halfway due to the battery getting low. The Gotrax runs on a 36V battery that is capable of generating 250 watts of power. The battery gives the scooter a top speed of 15.5 mph and a range of 12.5 miles. You can recharge the scooter in 4 hrs – this is pretty decent and better than many other scooter models.
Suppose you decide to do some off-road riding. In that case, you have 8.5″ pneumatic tires that do a fantastic job in helping you navigate through city traffic. The tires are assisted by an electric/disc brakes hybrid system that you can activate by hand. This gives you better braking power even at high speeds.
If you leave the class late in the evening when it's dark, you will find powerful headlights that will be handy. You also have a rear reflector that enhances the scooter visibility at night. The scooter also comes with an LCD screen that shows battery life, speed, or total distance.
Pros
Lightweight and easy to fold
Short charging time of 3 to 4 hours
Certified by safety bodies
Powerful headlights
Cons
The brakes are not that responsive when at high speeds
Razor E200S – Seated Electric Scooter
Blended with red, white, and black color Razor E200S is a great scooter with a superior design. The powerful motor, excellent brake system, and high-quality wheels make it an ideal option for college students.
If you are looking for an e-scooter with seats, Razor E200S has a removable seat. It comes in handy when you are tired of riding it standing. The seat makes your ride more comfortable and easy. Also, if you don't like riding with a seat, you can easily remove it.
The scooter has a chain-driven motor that does not make a noise when riding. You don't get those irritating noises when riding the Razor E200S e-scooter. This scooter's max speed is 12 mph, which is similar to XPRIT Folding Electric Kick Scooter. The maximum distance you can ride with this scooter is around 40 minutes at full speed. This scooter is not that good for heavy people as it can carry up to 154 pounds, which is not that good. There are other models from Razor if you are looking for an e-scooter that can carry more weight.
Pros
The scooter features a movable seat for a more comfortable and easy ride.
Chain driven motor
Hand-operated rear brake system.
Cons
Razor E200S is a lovely electric scooter for college students if the campus is near. If your college is far, you should look out for other scooters mentioned in this article as you can only travel 40 minutes on a single charge.
Glion Dolly – Most foldable electric scooter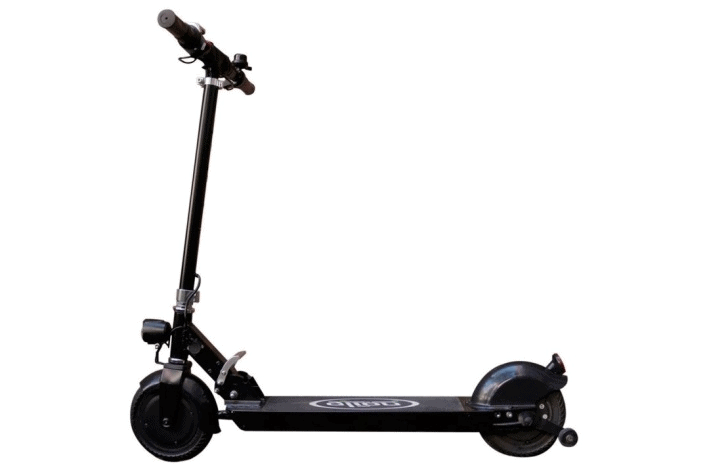 The Glion Dolly is an affordable scooter that is the favorite of many college students. You can easily fold it, which makes it ideal for carrying around in between classes. To enable you to get to the campus on time, the Glion comes equipped with a 36V 30 Sony nmc with 18650 cells capable of producing 250 watts of power. This gives you an average speed of 15 mph and a range of 15 miles. You only need 3.5 hours to recharge its battery fully.
The frame is sturdy enough to handle student weights without bending or losing power. The tires are airless; military-grade never-flat rubber tires. The benefit of such kinds of tires is that it requires low maintenance, and you do not have to worry about punctures or deflation.
The braking system is excellent and brings the scooter to an absolute standstill once you activate them. You can fold the Glion and park it in your standard carrying bag with a lot of ease.
Pros
Easily foldable
Modest speed 15 mph
Fast recharging time
Powerful battery to handle hills
Cons
You may have challenges climbing very steep hills
Xiaomi Mi – Long-range Battery
Xiaomi Mi Electric Scooter is an ultralight electric scooter with lots of great features. It is the best scooter for college students with an awe-inspiring speed and travel range. And you can go up to 15. 5 MPH, which is very impressive. If you like to ride the e-scooter faster, then Xiaomi Mi is something to look out for.
The maximum distance you can ride with Xiaomi is 18. 6 miles, which is great. Even if your college is not near, you don't have to worry about the battery going low with this scooter. And the best thing is it only takes 5 hrs to recharge fully.
The Xiaomi Mi Electric Scooter is foldable. You can easily fold it without any problems. The foldable feature is useful in crowded places where you can't ride. Safety has always been the main priority for Xiaomi Mi Electric Scooter: The scooter features a double braking system, with disc braking for fast braking. It is useful in emergencies. With this scooter, you can ride to the campus without worrying too much about safety-related things. Also, the scooter has lights in both front and back for better visibility at night.
You are going to college, and suddenly it starts raining. You need to find the proper place to park as you don't want to damage the battery. But when you buy a Xiaomi Mi Electric Scooter, you don't have to worry about it. The Xiaomi Mi e-scooter battery is completely sealed, which means it is water-resistant.
Do you love the scooter with great design? Then what can be better than Xiaomi Mi Electric Scooter? This scooter has been awarded the prestigious Red Dot "Best of the Best" Award and the iF Design Award 2017.
Pros
Simple yet great design and is available in both black and white colors.
It has a foldable design to carry easily
Great for college students as it has a high speed and impressive travel range in a single charge.
Dual braking system
It features the app to monitor the speed, battery charge, distance, etc
Ip54 water resistant scooter
Cons
As some customers stated that the scooter's maximum distance starts getting lower, the older it gets.
Segway is another electric scooter that is considered one of the best electric scooters for college students. Before I begin saying more, this scooter is not as cheap as the scooter I mentioned above. Still, it has lots of great features which include great travel distance. The scooter has a top speed of 18.6mph, which is fantastic. With this maximum speed, it wouldn't take you more time to go to campus. And, the Segway Ninebot MAX Electric Kick Scooter has an extraordinary travel range, which is 40. 4 miles in a single charge. With this max range, you can travel to the campus without worrying about the battery getting low.
Also, the scooter is foldable. Not only is it foldable, but it is super easy to fold and takes only 3 seconds to fold. The mechanical and electrical Anti-Lock braking system makes this scooter completely safe to ride. It also features 10-inch pneumatic tires for a comfortable ride, even on bumpy roads and rough surfaces.
Apart from all these things, Segway Ninebot MAX also features an LED display, Bluetooth capabilities, cruise control, select riding modes, and a mobile app for a better riding experience.
Pros
Impressive maximum range
Portable folding design
Pneumatic tires for a comfortable ride
Cons
I would highly recommend this scooter if you are not on a tight budget. You don't have to charge this scooter frequently as it can travel 40. 4 miles in a single charge. But if you are on a tight budget, you can buy other scooters mentioned above.
Turboant X7 – Great for handling steep hills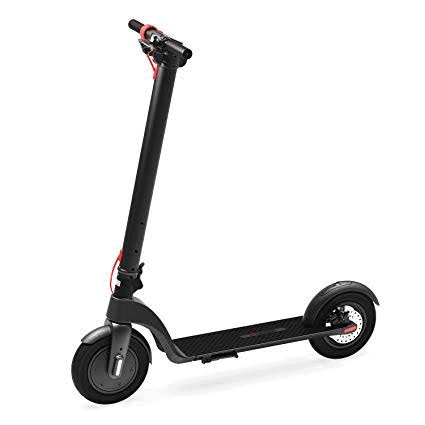 This scooter is packed with excellent features and is an ideal option for college—the Turboant X7 comes with a powerful 350-watt motorized battery. The scooter is capable of reaching speeds of up to 20 mph. This scooter can tackle steep hills of up to 15 degrees with ease. Riding to college has never been this fun with the Turboant. You can regulate your speed courtesy with three-speed modes. It means if you are running late for class, you can quickly get more power for higher speeds. And when running low on charge, you can switch to a modest pace that saves battery power.
The Turboant X7 comes with an impressive lithium-ion battery that is detachable. This means you do not have to take the scooter around you while charging. The battery is a product liability insured and enables you to ride 16 miles after a full charge. You can fully charge the battery in 4-6hrs. Remember that the mileage will vary depending on the scooter's weight and the speed you are traveling.
To enhance your riding experience, the Turboant comes with large 8.5″ pneumatic tires that are anti-puncture and designed for fuel-efficiency. The tires ensure a smooth ride even under bumpy conditions. The scooter can support a maximum weight load of 275 lbs. Students can deploy cruise control for constant scooter speed. If you plan on riding at night, no worries as the scooter come with a headlight and taillight for enhanced visibility.
The Turboant is lightweight and easily portable. Folding is through a three-way system that helps you save time. This also makes the scooter compact hence allowing you to place it in small spaces. You also get a triple braking system for extra safety.
Pros
Removable battery for easy charging
Higher than normal speeds
Three-way folding mechanism
Cruise control
Ability to handle steep hills of up to 15 steepness
Cons
Mileage maybe be limited due to weight and high speeds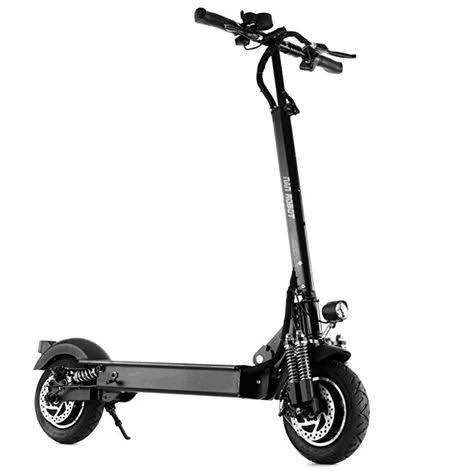 If you are a speed admirer, i.e., or plan on tackling some steep terrain, then the NANROBOT fills this gap. The NANROBOT is an all-wheel-drive scooter that supplies independent friction to both wheels. What this means is you will not struggle to get the scooter off the mud or experience slipping. Power comes through twin motors that produce a combined 2000watts. The high-performance 52V23.4Ah Lithium battery can generate up to 40 mph and a maximum distance of 45 miles.
Almost anybody can use the NANROBOT due to its high weight capacity of up to 330 lbs. For a smooth ride, the scooter comes with five shock absorbers and rugged 10″ pneumatic tires that are well capable of absorbing shock from rough terrain. It also enhances the riders' comfort when riding over bumps.
Due to the high speeds that the NANROBOT can achieve, the manufacturers added front and rear disc braking systems capable of maintaining stability despite terrain or speed. You also get a detachable seat for extra comfort and an LCD screen that shows your current speed, battery life, and distance covered. You can also connect the screen to Bluetooth. The folding mechanism is fast and straightforward, enabling you to carry your NANROBOT around the college.
Pros
High-speed scooter
High range
All-wheel drive for handling rugged terrain
Superior braking and suspension system
Cons
MacWheels MX1– Best long-lasting battery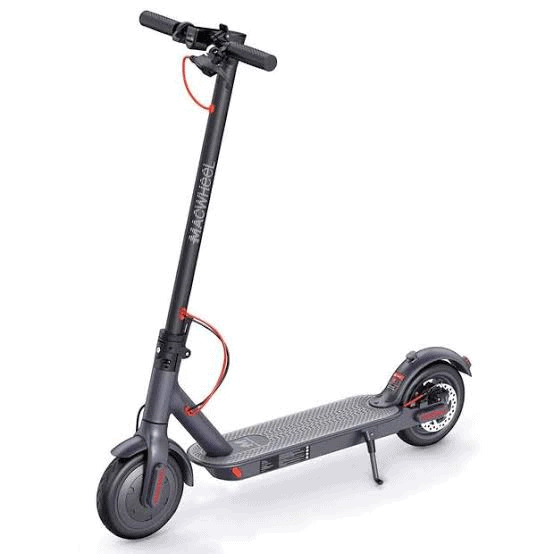 The MacWheels is a decent scooter with a powerful motor hub that is capable of producing 350Watts. It enables you to travel at speeds of 15.6 mph and overcome various obstacles like steep hills. The battery is capable of pushing the MacWheels to a range of 18.6 miles. With the high speed and long-range, you should be able to get to class in time while enjoying the ride. The battery also charges fast, and you should be back on the road after 4 hours. Note that the stated range will depend on driving speed, weather conditions, and terrain.
Most scooters will either come with rubberized or air-filled tires. The air-filled tires come with the advantage of offering a comfortable ride by absorbing vibrations, but they have the downside of punctures. The MacWheels come with sizable 8.5-inch pneumatic tires that eliminate the need for inflation. The tires are low maintenance while offering a smooth ride.
To help you come to a halt when riding the MacWheels, it features a front and rear anti-lock braking system. When you are done riding and are ready for class, fold the MacWheels in under three seconds, and you are good to go. The scooter is extremely lightweight and easy to carry. You can even store it under the metro train seats or your office cabinet.
Pros
Modest speed of 15.6 mph
High powered motor
Front and rear anti-lock braking system
Low maintenance 8.5-inch pneumatic tires
Cons
Tires are not that comfortable during off-road terrain
XPRIT  – Folding Electric Kick Scooter
XPRIT Folding Electric Kick Scooter is a perfect scooter for college students. It's very affordable and is of good quality. The scooter is equipped with a full aluminum alloy frame that is long-lasting and has fast acceleration. The scooter can go up to 8-13 miles per charge depending on the weather conditions, the rider's weight, and the scooter's situation. The range is perfect for every student to ride it to college.
The maximum speed of this scooter is 12.4 mph, which is pretty good. The XPRIT company is known to make affordable scooters that everyone can buy. Therefore don't expect high performance from this scooter. However, the scooter is an ideal option for most students.
The best thing about this scooter is that it has pneumatic tires. The pneumatic tires are an excellent shock absorber, which means you can also ride it on bumpy roads. These tires minimize the bounce rate when riding. The handlebars in XPRIT Folding Electric Kick Scooter are as well perfect. The sleek design of the scooter makes it comfortable when riding.
The scooter is also foldable, so it is easier to carry and take it on public transportation. Since the scooter has a shorter distance, sometimes you may encounter a low charge. The foldable design comes in handy in this situation.
Pros
Simple and easy to use
Affordable rate
Foldable design
Pneumatic tires
Cons
No rear foot brake
Short distance
In general, this scooter may not be the best in the market. Still, considering the price, it's a reliable scooter for campus students. Suppose you are on a tight budget but want an e-scooter with excellent design and quality material. In that case, XPRIT Folding Electric Kick Scooter is an ideal option.
Buying Guide for the Best electric scooter for college

Factors to consider when buying an electric scooter for college
Going to college is fun. It represents a new phase of your life and an opportunity to meet new people. However, suppose you are on student loans and don't have enough money to buy a car for daily activities. In that case, it is a good idea to get an electric scooter instead.
Battery and Power
Electric scooters are a great way to move around college with ease. They are compact, easily foldable, and you can carry them around when not riding. Innovations in battery technology have led to more powerful scooters that generate 250 to 1000 watts of power. It allows the scooter to hit speeds of between 15 mph to 40 mph. The battery in the scooter provides the necessary power to the scooter motor so that it starts rotating. If you have a powerful battery, then your scooter can handle steep hills with ease.
Electric scooter batteries can either be lead acid or lithium ones. The lead-acid battery is often found in budget-friendly scooters. While it is affordable, it also has some shortcomings, like adding to the scooter's weight, high maintenance, and lack of durability. Most of the high-end scooters have lithium batteries that are more durable and hold more power.
Weight
An individual or scooter's weight will play an essential role in handling steep hills and performance on road surfaces. Scooters have the maximum load capacity that needs to know before buying it. Most can comfortably handle weights of up to 250 lbs.
Range
The range defines the distance the scooter can cover before the next charge. For most scooters, the range is often around 20 miles, but you have some more powerful scooters that can handle more than 40 miles. The range is affected by motor type, speed, weather conditions, and weight of the rider. Next to the range, you also need to consider how long it takes for the battery to recharge. The best batteries take 3 to 5 hours to recharge, while at the highest, you have to wait up to 12 hrs.
Tires
The scooter tires influence how the scooter handles in bumpy or rough terrain. There are two types of tires used in scooters. Airless/rubber tires or air-filled ones. The rubberized ones are low maintenance, and you do not have to worry about punctures. However, the tires perform poorly in absorbing shock and offer a very uncomfortable ride in bumpy areas. The air-filled tires are right for absorbing shock, but you have to inflate them always. They are also sensitive to punctures.
Conclusion
The rise of electric scooters coincides with the need for green technology. Going to college is exciting, but you may lack the money for the right car at this time. Electric scooters are a good alternative as they are lightweight and portable. You do not have to worry about missing classes due to traffic jams as they are easy to move and travel at modest speeds.