Electric scooters are a fun way to travel around your neighborhood or in the city. They are compact, lightweight, and environmentally friendly. This buying guide for "best electric scooter for adults" examines various scooters based on various factors.
The myth is that scooters are only for kids. However, if you are tired of rising gasoline prices and just want to have fun as you ride around your neighborhood with the air blowing your hair then a scooter is a good alternative. For one, scooting is environmentally friendly, and allows you to absorb your surroundings as you travel.
With a scooter, you can travel at your own time and pace – no more waiting for the metro or spending huge amounts for cab fare. Choosing the right scooter is not that easy. You have to consider your budget, tire size, weight limit among other factors. We have done the research for you and present to you this informative guide that shows you some of the best electric scooters for adults.
Best electric scooter for adults compare
| Model | Weight capacity (lbs.) | Speed (mph) | Dimensions | Check on Amazon |
| --- | --- | --- | --- | --- |
| | 210 | 15.5 | 43.8 X 17 X 42 | |
| | 330 | 40 | N/A | |
| | 154 | 12 | 37.7 X 16.8 X 40.9 | |
| | 255 | 15 | 38 X 45 X 16 | |
| | 256 | 15.6 | 41.3 X 17.3 X 43.9 | |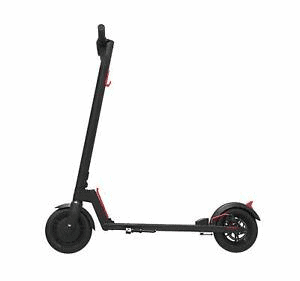 If you are looking for something fast and that enables you to navigate city traffic with ease look no further than the GOTRAX Rival commuting scooter. A 36 V battery powers this scooter and this gives you the ability to get to your office in time while dodging commuter traffic. The ride is smooth and comfortable courtesy of large 8.5" premium wheels. This has the capacity to handle any bumps thrown their way without throwing you off the scooter.
What makes this scooter ideal for commuting is that the powerful battery enables you to ride at 12 miles per charge. The 250-watt motor is well capable of achieving a top speed of 15.5 mph. This is enough to get you to your office on time. You also do not have to worry about carbon emissions like in motor vehicles, this scooter helps keep our environments safe. The scooter is IP54 water-resistant, meaning you do not have to worry about occasional splashes. It also features handlebar and rear disc brakes. If you have been driving fast, you can deploy the scooter's dual brake system and this will bring it to a halt fast.
Other cool features with the scooter are cruise control, handbrake, lock mechanism, and reinforced frame. The scooter is easily foldable for storage. The handlebar display will show you how much battery life is remaining. You also get LED lights for those nighttime escapades. The downside – it is pricier than other scooters in the market.
Pros
Very fast scooter doing over 15.5 mph
The battery holds a charge for 12 miles
Large wheels for easy maneuvering in city traffic
Cruise control and lock mechanism
Cons
A bit pricier than comparable models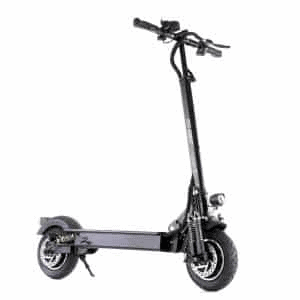 If you are looking for something to get you to the office fast then look no further than this NANROBOT D4+ scooter. We are including this in our "best electric scooter for adults" guide. The scooter comes with dual motors that deliver 2000W worth of power. Battery power is through 52V23.4 AH lithium battery that enables the scooter to hit a top speed of up to 45 mph and you can do 45 miles before the next recharge. The scooter is one of few scooters in the market that are all-wheel drive.
The NANROBOT is sturdy enough and can handle weights of up to 330 lbs. on most terrain. The ride is comfortable enough courtesy of 10" pneumatic tires and 5 shock absorbers. This enables the scooter to handle both on and off-road rides. Emergency braking is through the front and rear EBS braking systems that enables the scooter to come to a complete halt even under high speeds.
Due to its high powered motors, the NANROBOT is great for climbing hills. It comes with a portable design that makes it compact and easy to fit in car boots. You can fold it in seconds. For night travels do not worry, as the scooter comes with powerful headlights that see well in the dark. You also get a detachable seat for long travels.
Pros
Off-road capabilities
High-speed scooter
5-shock absorbers for bumpy rides
Great for climbing hills
Cons
Detachable seat not that comfortable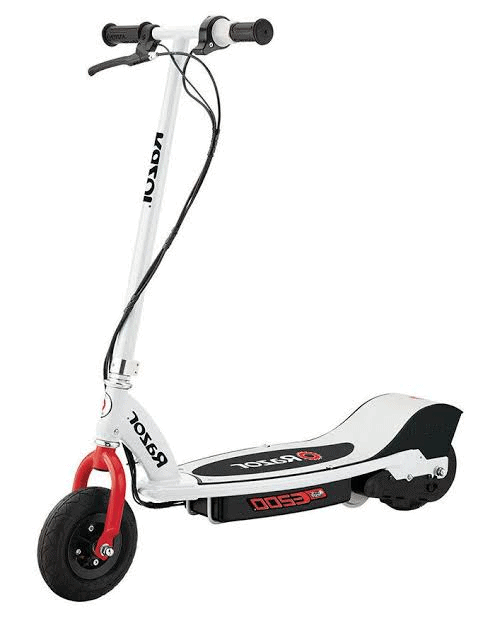 This scooter stands out due to its quietness. It uses a chain-driven motor that enables the scooter to reach speeds of up to 12 mph. You can ride for miles in your neighborhood without disturbing anyone. The scooter is capable of running for 40 minutes before the next charge. All this is powered by 12V durable battery.
The Razor handles have a twist grip for extra stability. Rugged pneumatic tires that are great for handling any kind of city terrain complement this. You also get a solid braking system and a strong kickstand by your side. Included in the purchase is a battery charger that charges your battery from 0 to maximum in just a few hours. You can leave the scooter charging as you go to bed.
The design of the scooter is basic but this should not fool you as Razor is known for producing highly durable products and this scooter is no exception. The scooter frame is sturdy enough to accommodate persons of all sizes.
Pros
Quiet scooter due to chain-driven motor
Twist grips for added stability
Fast recharging time
Sturdy frame makes it accommodative to adults
Cons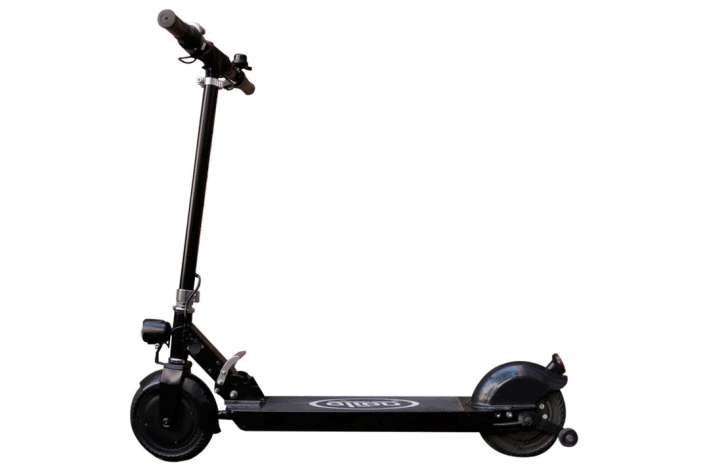 One of the shortcomings of scooters is that they need to be constantly recharged. Unlike a car that you can fill with gasoline and drive for miles, most scooters just give you enough charge to get you to the office and back. However, the Glion is in a class of its own courtesy of its 36V 7.8 lithium-ion battery. This is powers a quiet motor that ensures those quiet rides around the neighborhood. With the battery expect to drive through your neighborhood for up to 3.25 hours. The charging system is also super fast.
The Glion can cruise for 15 miles at an average speed of 15 mph. You have motorized anti-lock brakes that came in handy when you have a stray cat or dog crossing your path in the neighborhood. The scooter is easily foldable, meaning you can carry it along for trips.
The Glion scooter is made from a durable T6 aircraft-grade aluminum frame. It is extra coated with rust-resistant materials so you do not have to worry about harm on your scooter during rainy seasons. This water-resistant property extends to other scooter components like the hand controls. You get to track your battery life through the handlebar bar. You even get a pedestrian bell and optional canvas covers.
This scooter is lightweight, compact, and easily fordable. This makes it the ideal choice for those engaged in daily commutes.
Pros
Durable and sturdy aluminum frame
Quiet and high powered lithium battery
Electronic anti-lock brakes located in rear motor
Front and rear taillights
Cons
May not handle extreme weight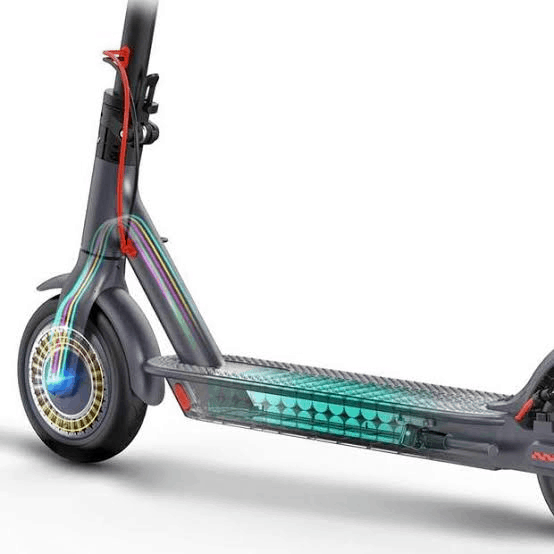 The last scooter in our best electric scooter for adults' guide is MacWheels MX1. The scooter is powered by a powerful 350-watt motor that is capable of delivering a top speed of 15.6 mph. When compared to the 240w common with most scooters, the MacWheels can handle slopes and another harsh terrain. You can do a lot with the MacWheels as it capable of providing 18.6 miles on a single charge that lasts up to 4 hours.
The scooter comes with 8.5" pneumatic tires that are "air free". This means you no longer need to inflate your tires to accommodate the extra weight. The tires also eliminate incidences of tire punctures and require very little maintenance. To support your bumpy rides, the scooter comes with anti-slip technology. The large tires also do a good job of absorbing some of the shocks from your rides.
The braking systems consist of front and rear anti-lock braking system. This enables you to come to a complete halt even at high speeds. The scooter is easily foldable and you can do this within 3 seconds. If you are looking for a budget-friendly scooter that is packed with awesome features then the MacWheels is your scooter of choice.
Pros
Large 8.5" pneumatic tires
Powerful motor for long rides
Easily foldable
Front and back anti-lock braking systems
Cons
Lacks adjustable handlebars
Buying Guide – How to choose the best electric scooter for adults
Quality
Since you are going to be purchasing a scooter to accommodate adult weight then the materials used for construction must be sturdy enough and durable. It is tempting to choose the cheapest scooter in the market but this will only lead to frustrations down the line. If you want something that will last long go for scooters manufactured by reputable companies –especially those who have been around for long. Note that the battery power and accessories will influence the final price of the scooter. The electric scooter battery should also be high quality as this is the main component of the scooter.
Chain drive or belt drive
You will also be confronted with either choosing a chain or belt drive guide of the motor. Of the two, the chain drive is the most reliable and offers durability. The belt drive will still good is not durable and you will be forced to replace it frequently. On the positive belt, drive scooters are very quiet, unlike the chain ones. The chain drive is a bit noisy and this can have positives in that it can warn pedestrians of your presence.
Braking systems
Scooters are not as slow as many people think. Some are known to hit speeds of up to 40 mph. With such kinds of speeds, you need a reliable braking system to bring the scooter to a complete halt during emergencies. The battery system plus the rider makes scooters heavy and this can build up momentum when riding downhill. The braking system that you choose poses various challenges. If you use handbrakes then you run the risk of wearing your wheels while front brakes can send you flying forward during emergencies. The best electric scooters will come with front and rear V disc brakes. This gives you better control of the scooter no matter the speed.
Frame construction
The type of metal used in the frame construction will determine the durability of the scooter. Thin steel sheets while making the scooter lighter are prone to breakages under heavyweights. The preference is for thick plate steel or tubular steel. You also need to know whether your scooter is all chrome plated and the quality of the chrome. Using low-quality chrome will lead to exposure of the underneath steel to rust. High-quality chrome plating does not rust and is most popular with high-end scooters. You will also need to check the quality of the plastic parts that adorn the scooter. If you have too many plastic items then your scooter rides will soon be over. Most of the kid's scooters have exposed metallic parts due to kids' tendencies to break things.
Battery
The best electric scooters for adults deliver over 350 watts of power anything lower than this and you will experience slow acceleration and difficulty climbing hills. Also, check that your scooter comes with a fast-charging battery to save time.
Conclusion
The final words about choosing the best electric scooter for adults. With rising gasoline prices and the need to conserve the environment, more adults are embracing the idea of commuting to work with electric scooters. Scooters are quiet, easily foldable, and compact enough to be driven in small places. You can use one for work, easily fold it and carry it for your next commute.