Kids or teenagers, anyone can use electric scooters, they're safe and are affordable for all. Electric scooters are one of the best gifts you can buy for your little child, this you'll keep them busy and entertained especially if they're alone. In this buying guide, we will focus especially on selecting the best electric scooter for 5 years old.
Kids love scooters, they can have a lot of fun riding their scooters around. They can take some ride around the neighborhood or can even commute to school. It's one of the best gifts for any season including Christmas and other holiday seasons.
Whether your kid is 5 years old or more, there is an electric scooter that's suitable for them. The type of electric scooter suitable for your kid is dependent on their riding skills, and whichever electric scooter you're going to select for your child, make sure they're wearing a helmet as well every safety measure should be taken in order to ensure the safety.
It can be a tedious task to find the one that's suitable for your 5-year-old kid. First, you need to consider the price, quality, and age suitability. All these can be a daunting task and that's why we decided to put together in this post the most suitable electric scooters for kids. We'll provide all the details you need to checkout for when buying an electric scooter either for your 5-year-old kid. Here is the table of the content we'll talk about in this post.
Best Electric Scooter For 5 Year Old – Comparison
| Name | Top Speed | Motor Power | Handle | Call to action |
| --- | --- | --- | --- | --- |
| Pulse Performance - 3 Wheel Electric Scooter | 2mph | N/A | 50lbs | |
| Razor E100 Electric Scooter | 10mph | N/A | 120lbs | |
| GOTRAX GKS electric scooter | 7.5mph | 150W | 154lbs | |
| Pulse Performance GRT-11 | 8mph | 80W | 120lbs | |
| Razor E90 Electric Scooter | 10mph | N/A | 120lbs | |
This 3-wheel electric scooter can be used by even a 3-year-old, every safety measure is put in place to secure your child. The 3 wheels that come with the scooter is to ensure your child doesn't fall. It provides more balance than a two-wheeled electric scooter. The battery can last for hours while your child is in the playground. In the specs, they mentioned it can only last for 40 minutes. Since your kid won't be riding long distances, will only remain within the playground. It will definitely last for hours. Secondly, kids, most of the time won't actually ride the scooter. They'll end up pushing it. Just don't forget to plug back the scooter to recharge after use and also ensure you get a helmet for your child.
Pulse Performance 3 Wheel scooter has the least speed when compared to other electric scooters. It can only travel up 2MPH, this is very safe for your child. You don't need to worry about over speeding. The child-friendly controller ensures the torque is low and the acceleration will be really smooth. It's very light and can only handle 50lbs weight. Your kids can push it around. It's a very cheap scooter but that doesn't mean it's of low quality. It's just designed for kids, when an adult attempts to ride on this scooter they'll damage it instantly.
Pros and Cons of Pulse Performance 3 Wheel:
Pros:
Better stability; your child will stay close to the ground, if your child falls (which is unlikely since it's a 3 wheeled scooter that provides more balance), chances of injury are slim.
The battery can last for hours.
It's a very slow scooter that won't cause any harm to your child, it has just a maximum speed of 2mph.
The scooter starts moving slowly when you push the safe start button.
It can handle a weight of only 50lbs, anything above that, the scooter hardly moves.
Urethane solid wheels, they're uncomfortable for adults but are absolutely perfect for toddlers.
The cons:
The motor is loud.
Can't handle terrains.
The battery doesn't last long.
This is another perfect option for kids who're at least 5 years or a little more, like 6 or 7. The scooter is very popular and has made it to our list because It comes with child-friendly features. It comes with safety hand brakes just like in bikes. This way your child won't find it difficult to operate the device.
The pneumatic wheel looks good but isn't suitable to ride on rough surfaces like gravel, grass, mud, or dirt. Your child needs to be on a smooth surface like concrete or asphalt. It comes with UL certified charger but takes some time before the battery is full. It can take 12-24 hours before the battery is full.
Razor E100 can carry a heavy load than the previous scooter. It can carry up to 120lbs but it's still not suitable for adults. If your child is heavier, you can go for other models that handle more weight from the Razor family such as E200 or E300. But the E100 we're discussing now is perfect for the 5-year-olds.
Pros and Cons of Razor E100 electric scooter:
Pros:
It has a top speed of 10mph.
It has 40 minutes run time and can cover a range of 5 miles.
It can handle a maximum weight of 120lbs.
The kick starts feature.
Comes with a hand-operated brake for better safety.
Rear solid wheel and front pneumatic tires.
It has a 24V SLA battery.
The cons:
The handle isn't adjustable.
Take hours to recharge the battery, but doesn't last long.
Not a portable scooter
This is one of the most stylish electric scooters you can buy for your kids. The GOTRAX GKS is specifically designed for kids, It's a very lightweight scooter and doesn't move at fast speed. The nature of the design makes it one of the best good looking scooter to rid along with the neighborhood. It has a compact design, it doesn't just have some stickers and decals to look nice, the scooter is fun to be looked at.
It doesn't only come with nice looks, it is also equipped with safety features for kids. The GOTRAX GKS electric scooter won't start moving until the rider places their feet on the board before the motor starts moving. If one foot is removed, the motor will shut down. This is a great safety measure taken to ensure your child is protected.
It's a lightweight scooter because it only weighs 17.8 pounds and it has a top speed of 7.5mph. The GOTRAX GKS has a range of 4 miles on a single charge. This is enough for new riders that are learning how scooters work. The solid 6-inch rubber tires can handle paved roads and help absorb little bumps around the neighborhood.
One downside is that the scooter isn't foldable, but it's still compact when assembled. The GOTRAX GKS is a perfect option for kids who're under 5ft. It can be a good gift for birthdays or Christmas.
Pros and Cons of GOTRAX GKS Electric Scooter:
Pros:
2-Volt Lithium Battery.
6-inch solid wheels.
It has a top speed of 7.5mph.
4 miles range.
Can handle a load of up to 154 lbs.
Comes with 150W motor.
Safety Start feature installed.
The cons:
It cannot be folded; your kid will have to carry it as it is.
If you feel your child needs to upgrade from the pulse performance 3 wheeler, the GRT-11 can be more suitable. It's a good electric scooter for your kids that's cheap on the wallet, and at the same time will keep them busy and entertained.
Even though it's not expensive, even a rough child can get along with the scooter. The GRT-11 comes with 12V battery and has a top speed of 8mph, this speed is enough for the safety of kids. The deck is wide enough to cover the feet of your child, plus the steel constructed frame makes it more durable.
The GRT-11 comes with two polyurethane wheels which can be a downside because kids scooters normally come with pneumatic tires. Polyurethane can be uncomfortable for some riders especially when riding outdoors. The GRT-11 electric is best enjoyed on smooth roads or surfaces.
It comes with a foot-operated brake, it's situated at the back of the electric scooter. The throttle can be located on the handlebar which can be controlled with only a thumb.
Pros and Cons of GRT-11 Electric Scooter:
Pros:
Comes with a powerful battery that can last for up to 50 hours.
It has a top speed of 8mph.
It's very cheap than most kid's scooters.
Foot brake.
Comes with a wide deck.
The cons:
The wheels aren't good on rough terrain, supervision is required when your kid is riding on gravel.
This is another renowned high-quality scooter from Razor. It's the second scooter from Razor we're mentioning in our list and that's because Razor is among the leading manufacturers of electric scooters worldwide. Razor E90 is designed also for kids and is built to last, this electric scooter is affordable, costing less than $100. Everyone can afford it for their kids.
It comes with a speed of 10mph, the average top speed is 10mph and can ride the electric scooter for more than one hour, this is enough time for adventure. The frame is made from steel that tough and durable, the scooter will last even for stubborn kids.
It's an efficient and powerful scooter that's quiet and can ride along in different areas, it has low maintenance, as a parent you have a piece of mind knowing that no spending extra money or putting time to maintain the scooter.
It comes with a 12-volt battery that can last for a few hours and can be charged quickly within some hours also. Here are some of the features it comes with:
Pros and Cons of Razor E90 Electric Scooter:
Pros:
It can carry a maximum load of 120 pounds.
It's a lightweight scooter weighing only 22 pounds.
It has a top speed of 10mph.
12-Volt rechargeable battery.
Kick start hub motor.
Has a quiet motor.
Handbrakes installed.
Built with durable steel.
Ideal for children, 5 years and upward.
The cons:
It's not foldable, this makes it difficult for kids to carry around.
Not good on wet surfaces.
Speed control is absent.
Which Electric Scooter Is The Best For 5-year-old kids?
As we've mentioned earlier finding the best electric scooter for your kid especially for the 5 years old depends on their skill. Kids at the same age don't normally have the same skills in terms of operating basic devices such as an electric scooter. With that said, our top pick from this list is the Pulse Performance 3 Wheel electric scooter. Even for the less bright kid, they can manage to ride this scooter, it's a 3 wheeler providing all the balance they need and they're close to the ground, even if your kid falls, they're not subjected to any injury. Take a look at the features and you'll realize that it's the perfect option for your kid.
Buying Guide -How to chose Best Electric Scooter for 5 year old
Things You Need To Consider
Take Note Of Your Kids Age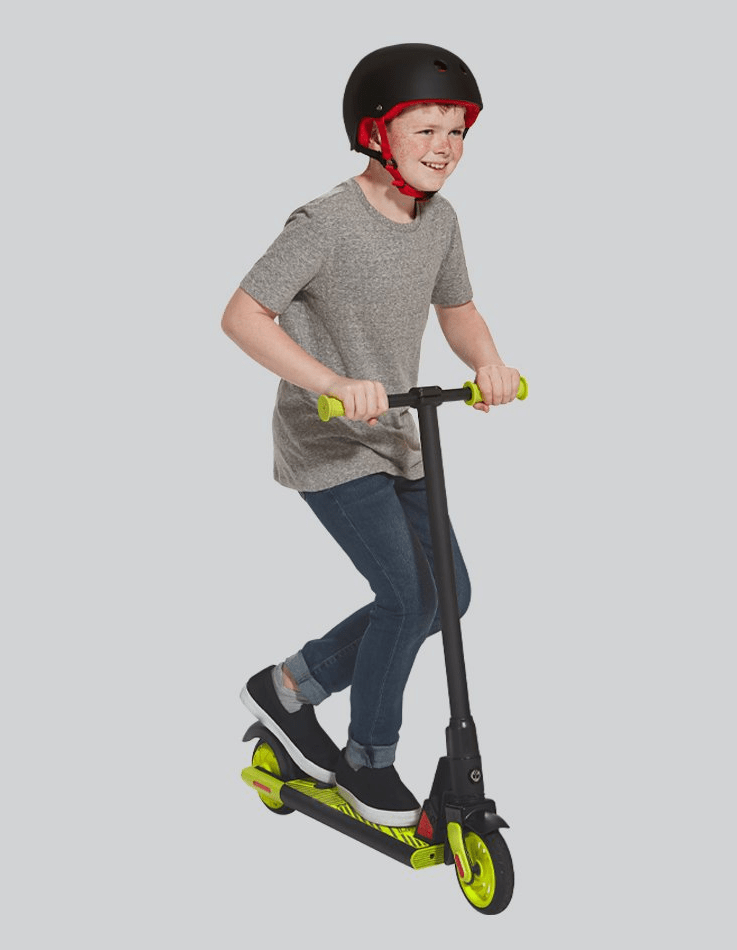 For a lot of brands that design scooters for kids, an age limit is specified for these models. That's why you need to keep your eyes only on scooters that are designed for 5-year-old kids. Without considering the age, you might end up buying an electric scooter for your 5-year-old kid just to find out that it's not for their age limit. Ensure they have the physical ability to ride the scooter you intend to buy for them, if possible you can get a rental for them to test drive, and when you're sure they can ride safely, you can go ahead to purchase it for them.
Two-Wheeled Vs Three-Wheeled Scooter
5-year-old kids don't have much riding skills, and that's why they should begin with a three-wheeled scooter, it's for their own safety, once they add more years together with some riding experience, you can then upgrade to a two-wheel scooter. You should know that a three-wheel scooter provides more balance and is safer for new riders that are no more than 5 years.
Depending on the surface you want your 5-year-old kid to ride upon, you need to select the right wheels because they make a big difference. Some wheels can't ride on rough surfaces or even grass, only on a smooth road. Generally, small wheels aren't suitable for riding on rough surfaces and larger wheels can handle rough roads.
If the scooter's wheel is large, the deck should also be wider. The scooter will have more bearing capacity with a larger deck. For 5-year-olds, you need to go for a smaller deck.
Safety Tips
Most kid's scooters come with a helmet, make sure to use it on your 5-year-old kid every time they're riding on the playground. Stats show that only 59% of parents wear a helmet for their kids while they're riding a scooter, bike or skateboard, don't join the remaining 61%. Even if the scooter doesn't come with a helmet you should buy one as part of your accessories. For most states and cities, it's required to be at least 17 years to become mandatory for wearing a helmet, that's not something you want to follow, always protect your child.
Scooters are not for multiple people
Kid's scooters are designed to handle the minimum weight, most kids want to buddy up with their friends and ride on a single scooter, that shouldn't be a good idea. If you really want your kids to buddy up on the scooter, make sure it can handle the weight. Putting extra load on the scooter will disrupt the balance and will be harder to steer, plus the risk of damaging the scooter.
Check for local regulations
This is a must if your child is going to ride along city roads, if they're only restricted on the playground within your premises, not need to worry about regulations. Most kids that ride on roads aren't familiar with city regulations, you need to make sure your kid has gone through these regulations for their safety.
Gadgets used by kids will always have some defaults, even though you want to ensure you get a durable scooter, you need to check for defaults every now and then to ensure no part of the scooter is damaged or has components that need replacement. Check the battery to ensure it is full and also show your kids how to use the battery meter.
Teach them how to ride properly
Riding a scooter isn't rocket science and that's why even a 5-year-old can ride it safely. But still, there is the need to show them basic functions and riding rules for scooters. There are safety instructions included in every new scooter, go through them, and educate your kid on these safety regulations, show them how to accelerate and decelerate, and how to take off safely.
Hanging a bag or even the typical sweater can disrupt the balance of your kid's scooter, not even talking of adding extra luggage from the store. Adding more weight especially on the handlebars can throw the scooter off balance. If you want to add more weight you should find the right scooter that can handle the weight size.
More Precautions for 5 Year Riding A Scooter
Check the joints and the guards, and other parts each time your kid wants to ride.
The functioning of your brakes and tire inflation for proper thread.
Only replace damaged parts with authorized parts recommended by the manufacturer.
Make sure to charge the battery every time the scooter is used before using the scooter again, this will ensure the longevity of the battery.
Avoid riding on roads or pits, especially for beginner riders.
Avoid leaving the handlebars.
Electric Scooter For Kids – Questions And Answers
These are some of the frequent questions and answers regarding electric scooter for 5-year-old kids, if you still have more questions, please drop them in the comment box.
Verdict
Electric scooters are one of the best gifts for kids at all seasons. Make sure to surprise your 5-year-old kids with the best electricity during. Our top recommendation is the Pulse Performance – 3 Wheel electric scooter or Razor E90 scooter.