Electric scooters offer your kids a fun way to move and compete around the neighborhood without necessarily tiring themselves. Since they run on motors you need to be extra careful in identifying the right electric scooter for your child. In this way, our "Best electric scooter for kids" guide will help you with this selection.
Electric scooters can be a fun option for your kids when they are outdoors. They do not require much effort like the kick-start scooter but run on electric motors. Choosing the right electric scooter for your kid is not an easy task. For one, you do not want to purchase them a toy that constantly breaks down neither do you want something very expensive that they soon discard when they grow up. In this buying guide, we have tested some of the best electric scooters for kids based on several factors and we are here to tell you which one to go for. There are some big scooter brands out there but the question is – are their scooters any good. Read on to find the answers to some of these questions.
How electric scooter for kids compare
| Model | Speed (mph) | Power (Watts) | Check on Amazon |
| --- | --- | --- | --- |
| | 15 | 250 | |
| | 15 | 250 | |
| | 1.75 | N/A | |
| | 26 | 1000 | |
| | 26 | 1000 | |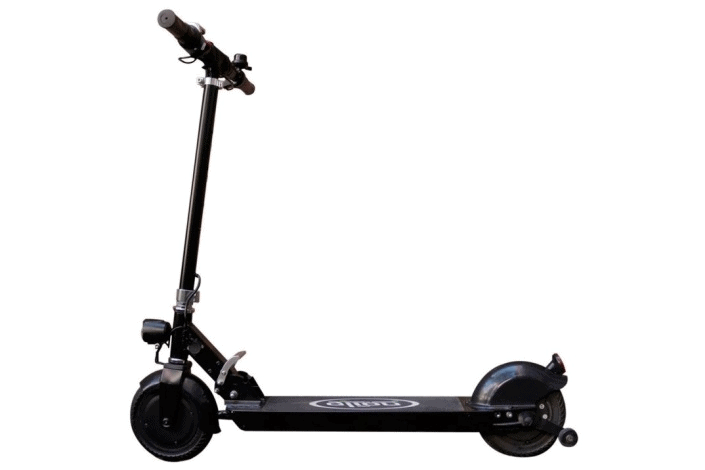 Glion Dolly has built a reputation over the years for developing quality products and this scooter is no exception. This scooter is lightweight, easy to operate and this makes it ideal for older kids and even adults. With a foldable feature, you can carry around the scooter for your kids during outdoor escapades.
The scooter comes with 8" tires that are maintenance-free. This is the kind of tires your kids can ride along without worrying about tire punctures or low pressure. You get a battery indicator that shows you much charge you have before the next charging session. The scooter is powered by a 36 volt 7.8 lithium-ion battery. For emergency braking, you get anti-lock brakes that are complemented by a rear fender foot brake.
The Glion Dolly is made from a durable T6 aircraft aluminum frame that will handle all manner of abuse from kids without bending. It is also powder-coated to prevent rust corrosion. The scooter also comes with head and taillights while the pedestrian bell helps prevent collisions on sidewalks.
Pros
Powerful 250w Lithium-ion battery
Capable of doing 15 mph
Extremely lightweight making it suitable for kids
Easily foldable
Cons
The motor can be a bit noisy
Razor E300 – Best Scooter Tires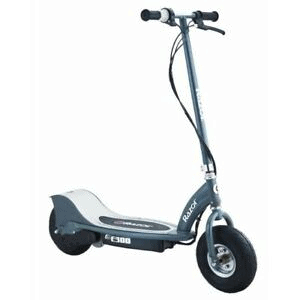 The Razor E300 is super-sized which makes it ideal for tall kids. A 250w chain-driven motor powers this scooter and this helps it deliver a top speed of 15 mph. Since the scooter is produced by Razor you do not need to worry about the quality of materials used in construction. When fully charged the battery will last you roughly 40 minutes before your next recharge.
The Razor E300 wide design means it can accommodate older teens up to a weight of 220 pounds. This scooter comes with a sturdy all-steel frame and fork that enables you to handle various terrain without the scooter bending or falling apart.
Experienced riders will find the large 9" pneumatic front and rear wheels handy in absorbing vibrations during bumpy rides. Also, included are twist-grip acceleration, rear brake, hand-operated and retractable kickstand.
Pros
Wide enough to accommodate large teens
High speed of up to 15 mph
Retractable kickstand
Large 10" pneumatic tires
Cons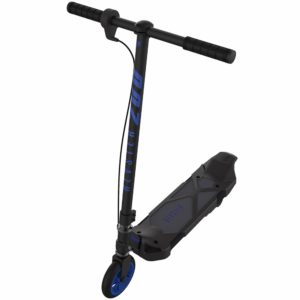 Kids are always attracted to colorful colors and this electric scooter has been crafted for your 8 years old and above. Your kids will enjoy over 40 minutes of riding this scooter outdoors before you need to recharge it. It has a simplistic design that is meant to appeal to your kid who is getting started using a scooter. The wide wheelbase ensures your kid does not tip over when riding and the safe start button ensures the kids do not move too past hence falling behind. The scooter will comfortably hit speeds of up to 1.75 mph.
To bring the scooter to a halt all your kid has to do is release the accelerator button and it will decelerate by itself. The Pulse performance has a weight capacity of 50 lbs., which large enough to accommodate most kids of the age of 8. It is low so the kids can easily climb and dismount from it. The three-urethane wheels ensure maximum stability for your kids no matter the terrain. You also get a pedestrian horn to announce your presence in the neighborhood. You can have it as paw patrol or ninja turtles.
Pros
Great design to accommodate kids
Easy start button
3 urethane wheels for stability
40 minutes of playtime
Cons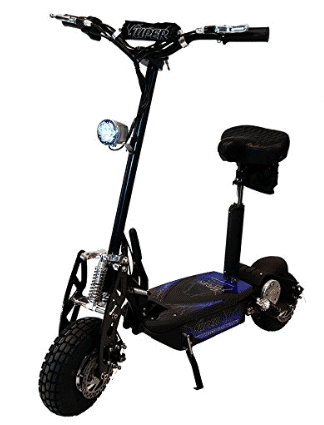 If your kids are old enough to enjoy high speeds then this scooter comes packed with one of the most powerful motors ever put in a kid's scooter. Due to its high-performance motor, this is not one of those scooters you allow your kids to ride in indoors. A 1000w motor that is able to churn over 26 mph powers the Super Turbo. It can hold persons over the weights of 250 lbs.
While most parents are maybe apprehensive to give their kids such a powerful bike due to its high speeds, the older ones will have a thrill with this one. the Super Turbo comes with large 10.5" rubber tires that enable you to handle a variety of terrain both rocky and smooth roads. To add to the versatility of the scooter, you get two ride modes – economy or turbo. If you want to conserve battery power then the Econo Mode comes in handy while the turbo is used for speed. For a full charge, you get 6 to 8 hours.
The scooter also comes with a sturdy and durable frame that can handle a lot of abuse. You have headlights to ride in the dark and due to its high weight capacity, even adults can join in the fun.
Pros
Can reach high speeds of 26 mph
Two ride modes Economy/turbo
Large tires
Sturdy frame can even handle adults
Cons
Maybe too fast for younger kids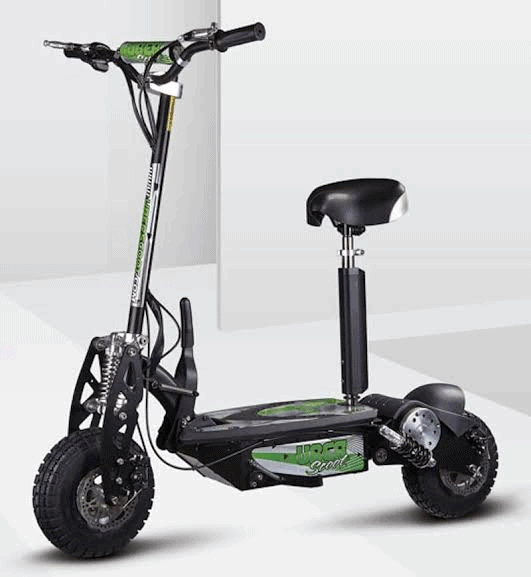 If you have a kid that is interested in winning the next scooter race then do get them this scooter. The UberScoot not only looks menacing but comes with a powerful 1000 watts motor that enables it to reach speeds of up to 26 mph. The range is 10 miles – which is quite a disappointment – but you will definitely have fun during the time. The other challenge is you will need 8 hours to recharge, which you can easily do as you go to bed. The scooter is recommended for kids above the age of 12 years and above as they can comfortably handle the high speeds.
To ensure you enjoy a smooth ride in spite of the terrain, the scooter comes with large 10" pneumatic tires. You also get front and rear brakes that will enable you to bring the scooter to a complete halt after high speeds. The weight capacity is 256 lbs. – meaning some adults can join in the fun. The UberScoot also comes with a quick-release foldable seat. When riding you can choose between a faster mode and economy that ensures maximum battery efficiency.
Pros
Great performance
Retractable seat
Economy mode for power efficiency
Large pneumatic 10" tires
Cons
Takes very long to charge and the 10-mile ride limit is a serious drawback
Buying Guide for the Best electric scooter for kids

Factors to consider when purchasing a scooter for kids
A scooter is a great way for your kids to have fun outdoors while engaging in competitive spots. Unlike the kick-start scooter that requires effort, electric scooters will drive themselves when fully charged. In fact, you can high speeds of up to 26 mph but this is relegated to the older kids. Identifying the right scooter is not a walk in the pack. You need to check performance, battery capacity, and scooter frame so that your child does not get hurt during rides.
Performance
Usage of electric scooters varies with children, there those who will use them for rides to school or commutes. At the high end of the scooter for kids are those that can achieve speeds of up to 20 mph. These ones are relegated to older kids and teenagers who are excited about the thrill of competing with their bikes. But, if you have an 8-year-old who is going to be riding their scooter indoors then speeds of around 2 mph would be ideal. Note that the scooter speeds the more power it will consume. Most high-performance scooters will require 6 to 8 hours to fully recharge.
Batteries lifespan
At the heart of the electric scooter is the battery that powers it. The batteries are rechargeable and can either be lithium or lead acid-based. Lithium-ion batteries are long-lasting, powerful but more expensive than lead-acid ones. You should expect a life expectancy of 3 to 5 years for the lead-acid battery. Lithium batteries will be found in most high-end scooters as they do not lose their power like the lead-acid ones. Most scooters for kids will be 12 V but you may find the scooter combining two or three of these batteries for a total commute output of 24 to 36 volts.
Brakes
If you are going to be cruising at speeds of over 20 mph then you need the best braking system for your scooter. In low-performance scooters, a simple braking system would do the trick as the kids won't go beyond 2 mph. The best braking system for a scooter is the front and rear V brakes. Since the brakes are applied in both the front and rear you do not need to worry much about it toppling the rider over. The braking also brings the scooter to a complete halt even under high speeds.
Frame and forks
When selecting the right scooter for your kids it is also imperative you take into account the frame of the scooter. Low-quality frames and forks result in cheap scooters that your kid will ride for a few months before they crumble down. The best bikes will be made from tubular steel, this makes them long-lasting and gives them the ability to handle heavy kids.
Range
The scooter range will determine how long you get to ride it before the next charging session. Most of the ranges are measured in minutes or miles with the average been around 40 minutes. The scooter will range will be determined by the child's unique needs. If they are going to be using their scooter for school then ensure it will get them to school and back before the next charge session. Closely, related to the range is the charging time.
Scooters come with rechargeable batteries that take a considerable time to recharge. Expect average times like 8 to 12 hours before your scooter is fully charged. This means you may need to leave your scooter charging overnight if you are going to be using the following day. On the positive scooters are environmentally friendly.
Conclusion
Electric scooters make for excellent companions for your kid's outdoor activities. You do not even need lessons to know how to use one. Those designed for kids come with easy to use dials that propel the scooter forward. Some will come with three wheels for enhanced stability. If you are going to be getting a scooter for your child ensure you get one with an average speed. If they are teens you can opt for the pricier ones that are known to hit speeds of up to 25 mph. Let's hope that our "Best electric scooter for kids" guide helped you to select your scooter.