Scooters have evolved over a couple of decades to what we have now called electric scooters. The first scooters were simple and did not have a motor system. Instead, the rider had to accelerate themselves using one foot. Now, we have powerful electric scooters such as the U Scooter Booster Plus. They are much faster, they last longer, and are very versatile in their operations. There are few electric scooters that come close to the Booster plus electric scooter. It is considered a premium or high-end scooter due to its performance and consequently its price. This is not a surprise since USCOOTERS is known to make premium scooters with zero-emission as a step to conserving mother earth. Apart from Booster Plus, there is the Booster V. Anyhow in the following article we will go to USCOOTER Booster plus review.
The USCOOTERS Booster Plus is very versatile and covers a lot of needs for different people. It is used by famous people such as Justin Bieber and Jamie Foxx among others. It is known for its high-quality build and finishing, high top speed, and fast charging. The following are the key features of this scooter.
USCOOTER Booster Plus Review – Key Features
When you first buy the scooter, the package includes a charger, a user manual, a certificate of conformity, and the scooter itself. Due to the premium nature, the company also includes additional accessories such as a carry bag and a two-piece shoulder strap. There is always an option to buy an additional spare wheel. All these options are not found in the majority of the scooters. Once you start using the scooter, here are a few features that distinguish it from the rest of the others
The USCOOTERS Booster plus is fitted with a DC brushless motor that provides a whopping 500W of power on average and an astounding 650W at its peak. This powerful motor is responsible for the high top speed of 22 miles per hour which is rather fast in the scooting community.
USCOOTERS Booster Plus has a high build quality
This scooter has arguably the best build quality you can find on a scooter today. This is because it is a fifth-generation scooter with a thoughtful design and nice finishing. It is built for daily use, unlike many other scooters. The frame is built from an aluminum alloy that is coated beautifully with metallic paint. The cables are tied together well and the moving parts are strong and durable.
It has special rubber tires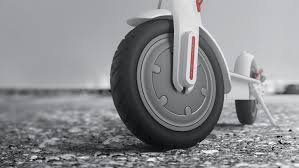 The Booster comes with a set of airless tires made from polyurethane which is an upgraded composite rubber. This material was used to increase versatility and enable use in wet conditions. It has a wonderful grip and handling for rainy days. The tires are also relatively long at 7.5 inches. The Booster is also one of the few electric scooters with a suspension system. The stiff suspension works with the airless tires to deliver a very smooth ride.
The USCOOTER Booster Plus has a wonderful design cockpit
The cockpit is the area at the front with all the controls and displays with scooters. It features a relatively large LCD display with few and straightforward controls. The display shows the speed, an odometer, the battery capacity, and the trip. It is bright and visible in full daylight conditions. There are also control buttons besides the LCD display. The four buttons control the horn, lights, settings option, and power on/off. The horn is loud but not too loud to scare pedestrians and drivers. On each extreme side of the handlebar, there are brakes and the accelerator. Both work well and provide a smooth ride.
The Booster Plus is portable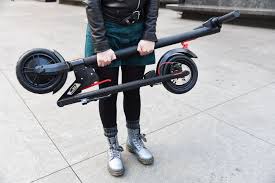 This scooter weighs just 23.5 pounds which are very little for an adult scooter. It is small and lightweight making it one of the best for crowded public places. It has also been built to be easily foldable to fit in even the smallest of spaces. The collapsing system has fondling handlebars and an easy folding system. There is a nylon handle to carry it easily in one arm. And when folded it is very compact and measures 5 by 12 inches only. The handlebars use a spring mechanism that allows it to dip into the telescoping stem. This whole process is done by simply stepping on a single foot lever.
Pros
It has the one of longest range of about 13 miles per full charge. Some argue it is the best in any scooter
It is equipped with powerful brakes including an electric front brake and a mechanical rear brake for emergency stops
It features a powerful motor that enables a top speed of 22 miles per hour. This is one of the highest for any scooter today
The Booster Plus is easy to fold and unfold. The building design enables the components such as handlebars to fold quickly into a small compact package
It has a suspension system that cannot be said for the majority of the scooters today. The stiff suspension system together with the wheels provide an insanely comfortable ride
It is equipped with cruise control. This means you do not need to press down on the throttle to maintain your speed and keep moving
Very bright headlights and taillights that ensure the safety of the rider
Cons
It has a design flaw that requires the rider to push the handlebars forward when riding over bumps
Handlebars do not lock in place when folded which can be annoying=especially when carrying for long distances
The battery life indicator has been reported to be off and inaccurate
The suspension can get sticky after a few months of heavy use
Final Verdict
USCOOTER Booster plus review try to analyze and conclude that is a great scooter will certainly dent your pocket. However, it is versatile, fast, and durable and built for day to day use. If you're looking for a scooter to commute daily without having to worry about straining the little machine, the Booster Plus should be your first choice. It comes in many bright colors and is available on all online stores such as Amazon.