Electric scooters can be a lot of fun and also act as a great means of transportation in crowded cities and streets. They are fast, efficient and quite comfortable to ride on. They are also eco-friendly since they don't need fuel to operate. Instead, they use rechargeable lithium ion batteries. In the below guide we will analyse best electric scooter for 300lb man.
Scooters have been growing in popularity in towns due to their small size and compact nature. This means that if you need to step off and carry it to cross the road, you need not struggle carrying it. When looking for a scooter to buy, there are a lot factors to consider. Among the most important ones is the maximum rider weight limit.
Different electric scooters have different user weight limits depending on who the scooter is meant for. A teenager's electric scooter for example has a lower weight limit compared to an adult's electric scooter. Electric scooters with a limit of 300lbs are considered adult electric scooters.
These electric scooters have very strong builds with robust features and support for heavy adults. When selecting the best scooter for a heavy adult, consider factors such as brake power, overall build quality, types of tires used, suspension and length of the stem or adjustability for tall people.
Best Electric Scooter for 300lb Man Compare
| Name | Max. Rider Weight | Motor Power | Call to action |
| --- | --- | --- | --- |
| Tomoloo Hoverboard Electric Scooter | 300lbs. | 800W | |
| NANROBOT D4+ Electric Scooter | 330lbs. | 200W | |
| QIEWA Q Power Double Motors Off Road Scooter | 660lbs. | 3200W | |
| Glion Dolly Electric Scooter | 320lbs. | 250W | |
Check out the list for the best electric scooter for a 300lbs man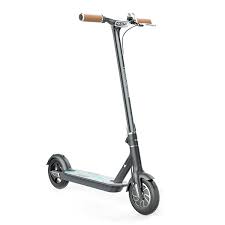 Tomoloo Company is one of the less known electric scooter companies. They however manufacture some of the best electric scooters for heavy people and the Tomoloo Hover Board does not miss. This scooter is light weight and small.
It is ideal for short distances and can carry a rider of up to 300lbs. It is very light and weight just about 30 pounds. This would be easy to carry even in one arm. For more portability, it also has a folding mechanism that allows you to carry it in the car's trunk or underneath your seat on the subway.
The Tomoloo is also a great choice for anyone with a budget. It is cheap and available on online retail stores such as Amazon. The scooter is fitted with a brushless motor that enables a top speed of 15.5 mph.
It is also fitted with a relatively powerful battery that provides a distance range of up to 18.6 miles. The battery also charges fast with only 3 hours needed for a full charge. Both of these are amazing features and make this scooter such a hard bargain. The wheels are two 8.5 inch pneumatic tires that increase comfort and provide little suspension.
These tires are also built to resist wearing and ride on rough terrain. For night visibility the Tomoloo is fitted with a bright LED light at the front and red LED tail lights in the rear. Other than these, there are other ambient lightings on the deck for aesthetic and color.
The steering wheel of this scooter has a LED display that display all the necessary details. These include the three gears, total mileage, and time taken for a trip, battery life and voltage. It also features an app that allows the rider to set the riding, change the LED color among other things. The following are its pros and cons
Pros
The Tomoloo Hoverboard scooter is quite affordable and provides great value for money
It is light and can be easily carried around even in one arm
It has a folding mechanism that allows it to be packed and stored easily
The Tomoloo is beautiful and striking due to the ambient LED lighting placed on the deck
It comes with a smartphone application that allows the rider to control some of the aspects of the scooter and check details such as charge remaining and mileage.
Cons
Many users have complained that the LED display is not clearly visible under a hot sun
It is relatively slow compared to other electric scooters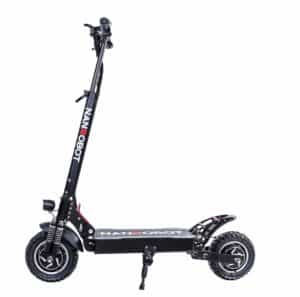 The NanRobot D4+ is a predecessor of the D5+ which is also an electric scooter for heavy adults. This scooter has a maximum user limit of 330 lbs. or 136kg and so meets our requirement for "Best electric scooter for 300lb man" compare. It is a versatile electric scooter which has been built for high performance as well as heavy adults.
Like other NanRobot electric scooters, the D4+ is powered by a pair of very powerful 1000W motorized motor fitted both on the front and rear wheels. There is an option however to use either one or both of the motors. These powerful motors enable a top speed of a whopping 40mph or 64kph making it one of the fastest electric scooters in the world.
This dual motor system isn't only for speed. It is also responsible for the long range of distance this scooter can cover. With a range of 62 miles, this is one of the longest ranges in electric scooters today.
To power the electric scooter, there is rechargeable lithium ion battery with a capacity of 23Ah. And this isn't even the icing on the cake. This powerful battery only needs 3 hours to charge from dead to a full charge (100%). All these features enable this scooter to comfortably carry a 330lbs person which is our main goal.
The Nanrobot D4+ has large wheels that are built for off-road riding. They come along with six shock absorbers split between them. The front wheels have four absorbers while the rear have two. They provide the most comfortable and stable ride for the rider.
But these features also work against the weight of this electric scooter. Weighing 70 pounds, it will definitely be a problem carrying this scooter in your arms. Other features include an LCD display that shows all the necessary details such as riding mode and battery life among others. There is also a USB charging port and LED lights for riding at night. The following are its pros and cons.
Pros
It is a great choice for any heavy adult not exceeding 330lbs or 136 kilos
The scooter has two powerful motors that provide 1000 Watts each
This is one of the fastest electric scooters with a top speed of 40 miles per hour or 62 kph
It has a very long range of 62 miles
The NanRobot also features a suspension system made up of six shock absorbers with four at the front and two at the back
It has huge 11 inch wheels that provide a nice comfortable ride and enable off-road riding
The battery only takes 3 hours to charge
The LCD display is bright and clear even on a sunny day
Cons
It is expensive
It is heavy and weighs about 70 pounds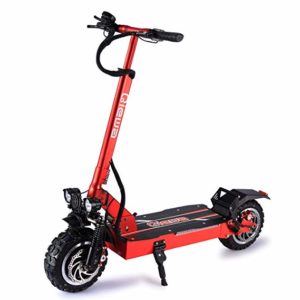 The Q Power electric scooter is a high end premium electric scooter with the best features an electric scooter can offer. It also has an astounding 660lbs. user capacity which translates to 300kgs. These premium features are responsible for the high price tag that comes with this scooter.
The Q Power has the best features and among them is the powerful motors that propel this little thing. It is equipped with a pair of 1600 Watt motors that propel the scooter to speeds of up to 55 miles per hour or 88kph. This is extremely fast for a scooter, making this the fastest electric scooter there is for heavy adults.
These two motors are powered by a 26 Ah rechargeable lithium ion battery. The battery is responsible for the long range this scooter has. It is able to travel 56 miles or 90 km on a single full charge which is very impressive. Driving at top speed, you can get an hour out of this small beast.
There is also a battery conservation mode that enables your battery to last longer. As we know now, many scooters with powerful batteries take a long time to fully charge, sometimes, even half a day. The Q Power however has a special charging system that allows it to charge much faster.
The Q Power was designed for off road use and because if this, is one of the most durable scooters out there. The fact that it can carry a person who's over 600 lbs. requires it to be robust and sturdy. To hold everything together, it is fitted with 11 inch pneumatic tires perfect for off-roading.
All these great features make the scooter quite heavy weighing 37kgs. The following are some of the upsides and downsides of the Q Power electric scooter
Pros
It is the fastest electric scooter for heavy people with a top speed of 55mph or 88kph
The Q Power Double has one of the highest weight capacity at 660lbs.
The scooter comes with powerful motors that enable off road riding
It features single and double motor switching
It has 11 inch long wheels that provide a comfortable and stable ride even on rough terrain
The device has a large battery that can last an extremely long range of 56 miles which translates to 90km
With a weight limit of 660lbs, it is able to comfortable accommodate majority of the heavy adults out there
The LCD display is bright and clear even on hot sunny days
Cons
It is quite heavy at 37kgs. This makes it difficult to carry it around when need arises
The Q Power Double is quite expensive due to the wide range of features it comes with
Even with the high price, you have to pay extra for the detachable seat option and the cover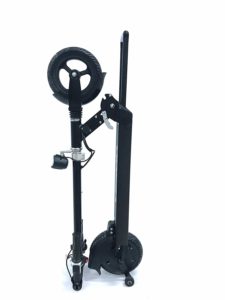 The Glion Dolly is a popular scooter that is portable and comfortable. It is great for people who use public transport such as commuter trains. The Glion Dolly is sturdy and compact and yet the most portable electric scooter you can find in the market today.
The dolly wheels make it portable and a telescoping carrying handle that enables you to carry it like airport luggage. In simpler words, it folds into a small package with wheels that is easy to tow around and stand on its own.
However, a few things had to be compromised to achieve this high level of portability. The Glion Dolly rides poorly on rough roads and has lackluster control and overall performance.
The Glion Dolly is named after the dolly wheels it uses. The dolly wheels protrude from the tail end of the scooter like those you would find on airport luggage bags. The dolly wheels are fitted to make it easy and convenient to carry around when folded. It folds into a small package with wheels that is easy to tow around and stand on its own.
The Glion Dolly is perfect for people who travel in public commuter trains and buses. This is why it comes with a telescoping towing handle that enables you to tow it around like airport luggage. Like a suitcase, the handle is deployed using the click of a button and you can move it around on the dolly wheels. The following are some of its pros and cons:
Pros
It has a very quiet motor
The battery takes a very short time to charge, using only 3 hours to fully charge
Has a beautiful design and has nice finishes and touches
This is an affordable and has great value for money considering the features you get
It is popular and therefore available on all online stores and local electric scooter dealers near you
Cons
Some users consider the distance range of 15 miles is little
For users who want a fast high performance scooter, this is not one for you
The buyer has to pay an additional fee for the scooter cover
Conclusion
When selecting the best electric scooter for 300lb man, you should mainly consider the speed, weight, range and motor power. This is because the scooter needs more power to carry a heavy person. The price is also an important factor. For this list, we provide the perfect balance between these factors. If you're not on a budget however, we recommend the Q Power Double and the D4+ electric scooters.