Electric scooters can be a lot of fun and also act as a great means of transportation in crowded cities and streets. They are fast, efficient, and quite comfortable to ride on. They are also eco-friendly since they don't need fuel to operate. Instead, they use rechargeable lithium-ion batteries. In the below guide we will analyze the best electric scooter for 300lb man.
Scooters have been growing in popularity in towns due to their small size and compact nature. This means that if you need to step off and carry it to cross the road, you need not struggle to carry it. When looking for a scooter to buy, there are a lot of factors to consider. Among the most important ones is the maximum rider weight limit.
Different electric scooters have different user weight limits depending on who the scooter is meant for. A teenager's electric scooter for example has a lower weight limit compared to an adult's electric scooter. Electric scooters with a limit of 300lbs are considered adult electric scooters.
These electric scooters have very strong builds with robust features and support for heavy adults. When selecting the best scooter for a heavy adult, consider factors such as brake power, overall build quality, types of tires used, suspension, and length of the stem or adjustability for tall people.
Best Electric Scooter for 300lb Man Compare Table
| Name | Max. Rider Weight | Max Speed | Max Range | Call to action |   |
| --- | --- | --- | --- | --- | --- |
| Swagtron Swagger 5T | 320 lbs | 18 mph | 11 miles | | |
| Glion Dolly | 320 lbs. | 15 mph | 15 miles | | |
| IMoving Junior | 330 lbs | 25 mph | 22 miles | | |
| Apollo Pro | 330 lbs | 38 mph | 50 miles | | |
| Turbowheel Lightning+ | 330 lbs | 40 mph | 30 miles | | |
| Dualtron Ultra | 330 lbs | 40+ mph | 80 miles | | |
| WOLF WARRIOR 11 | 330 lbs | 50 mph | 70 miles | | |
| Zero 11X | 330 lbs | 62 mph | 90 miles | | |
| NANROBOT D6+ | 330 lbs | 40 mph | 40 miles | | |
| Dualtron 3 | 310 lbs | 40+ mph | 65 miles | | |
| NANROBOT D4+ | 330 lbs | 25 mph | 40 miles | | |
| QIEWA Q Power | 440 lbs. | 56 mph | 55 miles | | |
Review of Best Electric Scooters for 300lb Man
Swagtron Swagger 5T: High Value And Low-Cost electric scooter
If you buy an e-scooter today, in a nearby store or online, you will find lots of options and features. However, there will always be some imbalance between performance, price, or design. Wait! Don't Worry, Swagtron Swagger 5T is a scooter with a perfect balance between attractive design, affordable price, and spirited performance.
You will be surprised to know that Swagger 5T can carry up to 320lb. This scooter stands out in terms of low cost but high value. It comes with an app and can take you up to 11 miles. It has unique tires, where the front wheel is an air-adjustable inflatable tire. On the other hand, the rear wheel is an airless tire. The scooter takes around 3.5 hours to charge, which is pretty impressive.
The scooter needs low maintenance and has an excellent build quality. It has LED lights on the front and rear sides and holds a 300W electric motor and a 260Wh battery. If you are looking for a decent, durable, and well-designed scooter for commuting, the Swagtron – Swagger 5T is the right choice. It is a scooter for beginner riders and comes with a 12-month warranty. This electric scooter is portable and foldable. It is lightweight and easy to carry around.
Pros:
The scooter is easy to use and drive.
It has an airless rear tire.
It has a fast-charging time.
The scooter has a phone holder.
Cons:
It offers less mileage, which is 11 miles(17.7 kilometers) when you fully charge it.
The scooter performs moderately on rough and rugged terrain.
It has no suspension.
Glion Dolly – Cheapest Electric Scooter for 300lb Man
The Glion Dolly is a popular scooter that is portable and comfortable. It is great for people who use public transport such as commuter trains. The Glion Dolly is sturdy and compact and yet the most portable electric scooter you can find in the market today.
The dolly wheels make it portable and a telescoping carrying handle enables you to carry it like airport luggage. In simpler words, it folds into a small package with wheels that is easy to tow around and stand on its own.
However, a few things had to be compromised to achieve this high level of portability. The Glion Dolly rides poorly on rough roads and has lackluster control and overall performance.
The Glion Dolly is named after the dolly wheels it uses. The dolly wheels protrude from the tail end of the scooter like those you would find on airport luggage bags. The dolly wheels are fitted to make it easy and convenient to carry around when folded. It folds into a small package with wheels that is easy to tow around and stand on its own.
The Glion Dolly is perfect for people who travel in public commuter trains and buses. This is why it comes with a telescoping towing handle that enables you to tow it around like airport luggage. Like a suitcase, the handle is deployed using the click of a button and you can move it around on the dolly wheels. The following are some of its pros and cons:
Pros:
It has a very quiet motor
The battery takes a very short time to charge, using only 3 hours to fully charge
Has a beautiful design and has nice finishes and touches
This is affordable and has great value for money considering the features you get
It is popular and therefore available on all online stores and local electric scooter dealers near you
Cons:
Some users consider the distance range of 15 miles is little
For users who want a fast high-performance scooter, this is not one for you
The buyer has to pay an additional fee for the scooter cover
IMoving Junior: High weight capacity electric scooter
iMoving Junior is one of the high-quality electric scooters available in the market today. They are built-in with consideration of superior quality, design, and performance. The safety features are full proof. Among all the qualities, the most appreciable part is the dual disc brakes braking system, which feels robust and optimal. The motors are also powerful. The 48V 800mph motors are powerful enough that can go up to 25 mph. When riding, we can be assured by the quality they offer. Next, the battery is also long-lasting; when fully charged. 10Ah 48V battery makes sure that the scooter goes up to 22 miles.
Apart from its extraordinary build quality, the design is also sleek and beautiful. The scooter is designed with care, and the performance is invigorating. The lightweight aluminum board can hold a max rider easily. The scooter is easy to handle and is perfect for any level riders. The scooter is stronger than the similar scooters available in the market today. The suspension is well-built and can take the heavyweights with its unique 80MM super shock spring and high weight-bearing capacity.
Portable and comfortable, the IMoving Junior needs to be taken seriously because this scooter can carry a load up to 330 lbs. Hence, the IMoving scooter feature is heavyweight building capacity and stable, sustainable performance over a period of time.
Pros:
The braking system is insanely high quality.
The motor of the iMoving Junior is powerful.
The device is seamless and made with artistic quality.
The battery is long-lasting.
Cons:
The price is justified by the features it offers, so there aren't really any cons.
Apollo Pro: Great for all kinds of trails and streets.
The Apollo Pro is the most personal and comfortable scooter we have ever seen. The forged aluminum frame comes with lots of options to customize in terms of color and battery. They are equipped with 10-inch air-filled tires, and the scooter weighs about 34Kg. The best part of the scooter is that it can hold a maximum load of 330 LBS (150 KG).
The LED lights are on the front, and the braking systems are both electric and disc. The front spring and rear hydraulic suspension makes the scooter better in performance, design, and build quality. The battery 52V 22.5aH battery can cover a long travel distance (range) up to 50 miles. There are two charging ports to cut the charging time in half. You can customize the battery to more powerful options to provide better safety and protection qualities. With standard power consumption and riding features, the scooter is a beast in all kinds of trails and streets.
The high-efficiency brushless motors on both the front and rear side carry 1000W power. For a hefty max rider, the power and speed of the Apollo pro will not disappoint. The deck is expansive and can hold a max rider easily.
Pros:
The scooter is beautifully designed.
The scooter can easily support max rider people.
It has very little weight.
The motors are powerful.
Apollo is highly customizable to fit personal needs.
Cons:
The LED lights are just not bright enough to provide proper road illumination.
Turbowheel – lightning+ is unlike any scooter we have seen. The handlebar is not straight. It gives a natural grip and has a dashboard, key place, mode changing button, and motor picker. The scooter is well built, and the brakes are efficient. It has two hydraulic disc brakes and an electric brake. The tires are also extreme and are suitable for rough and uphill surfaces. Since the build quality and other features are for max weight riders, the scooter can carry a person up to 330lb weights.
Pros:
Excellent suspension
High weight limit capacity
dual-hydraulic Zoom disc brakes
Large color dashboard.
Cons:
You need to pay extra for inserting the seat
Dualtron Ultra: Long-range electric scooters
Dualtron Ultra, as the name suggests, is an ultra electric scooter. The scooter is made powerful and suitable for rough terrain. The electric scooter comes with a max motor 5,400-watt dual hub motor that falls in an insanely powerful motor list. The engine thus supports all sorts of off-road, outdoor streets, and trails.
The battery is 60 volts 32 Ah 1920 Wh capacity. It takes around 20 hours with a standard charger to cut to half using two charging ports. The quick charger can charge the scooter in 5.3 hours. If you are still doubtful about its specifications and features, heed to this – the scooter has an extreme long mileage that is 75 miles(120km) when fully charged. Thus, the scooter is for hefty riders who love adventures and thrill because the scooter's maximum speed is 50 mph(80.46kph). Isn't it impressive?
If you are riding at 50 mph, then another aspect that you should not overlook is brakes.
The braking system has front and rear disk brakes with ABS standard and 160mm disks. We felt the only challenge is that the scooter is 81 lbs in weight and may not be suitable for young riders. The scooter is well built with a very durable frame and body.
Pros:
Dualtron Ultra scooter comes with a heat sink to sustain the powerful motors.
The display is well informed, and there are built-in fingerprint features.
You can use Dualtron – Ultra e-scooter for hill climbing and off trails.
Cons:
The scooter weighs 81 lbs and hence only for adult riders.
WOLF WARRIOR 11: Best off-road electric scooter
Wolf Warrior is a fierce off-road scooter. It comes with a 2x 1200W base brushless motor that can reach an output of 5400W peak. The battery is also powerful, which is LG/Samsung Li-ion 60V 35Ah battery. The battery does last for long. What stands out is that this electric scooter can reach an extra mile of 70 miles(112.65km) in eco mode. The speed and acceleration are also swift that reach 50 mph(80.46kph). Wolf Warrior can be for people who weigh a maximum of 330 lbs(150 kg)
The scooter features 11″ tubeless tires. The electric scooter has a front hydraulic and rear spring suspension, while the brakes on both back and front are hydraulic. The scooter tops the list when it comes to lightning. There are front, side, and rear LEDs that light the streets well. The handle is strong and offers a display and throttle. The scooter weighs a little more: 101 lbs and has an excellent build structure and precise finishing. For higher stability, control, and balance, the scooter has high-grade shock absorbers. This scooter is designed to sustain the off-road experience and perform well in the city atmosphere. The scooter has a high load capacity and is suitable for any person up to 350 lbs.
Pros:
The scooter has advanced front and rear lights. It comes with a big redback LED light that gives a good ground effect, plus sidelights and two huge forward-facing LED headlights.
The Wolf Warrior has a Minimotors EY3 Display attached to the handle that gives a customizable experience.
Cons:
The price is a little costly
Zero 11X: High-performance electric scooter
Zero 11X is a powerful scooter with an advanced motor, battery, and other features. The scooter is not for beginners but is made for experienced and adult riders. If you weigh about 330lb, this Zero – 11X might be the right choice for you. Why? Because the scooter is heavily built with strong materials and can carry a maximum of 330lb easily.
Two motors are 3200W combined, and these motors are known for their extreme power. The motor makes this scooter go at high speed and helps to balance the scooter easily. The air-filled tires are also durable and can travel on rough surfaces. The tires are more significant compared to other electric scooters. The brakes are reactive and responsive, and they do precisely what they are intended to do. Zero 11x is luxurious, stylish in terms of suspension as well. They can easily handle big weights and persons and give better riding experiences. This scooter fits all for sporty and is looking for a scooter to commute to work or fun.
Pros:
The Zero 11X has a potent motor that can easily withstand the people who seek adventures.
Wheels are 11-inch pneumatic tires that offer a better experience for adult riders.
The suspension can easily carry a greater load but also adjustable with the person's weight and preferences.
The Zero 11x is beautiful and looks marvelous.
It can easily sustain in rough terrain.
The battery can be charged from two ports.
Cons:
The scooter is heavier in weight compared to other scooters.
The scooter is mainly for experienced and heavier riders.
NANROBOT D6+: High power off-road beast
The Nanrobot scooters are the best value scooters. In Nanrobot D6+, there is a motor with a total power of 2000 W (1000W x 2), which are brushless dual drive motors. The battery is a 52V 26Ah Lithium-Ion battery. The scooter can reach up to 40 miles under eco mode. The speed is also great and can go up to 62 km/hr. This electric scooter weighs about 77 lbs. The air-filled pneumatic tires are great for off-road travels and can be great for any road.
The scooter comes with C-Type suspensions and also with Front & Rear hydraulic Spring Shock Absorbers. These, when combined with motor and brakes, give a great trail riding experience. There are two front and one rear brake with EBS Disc Brake or Hydraulic (Oil) brake. Two charging ports can apportion the total 12 hours of charging into 6-hour charging.
Nanrobot D6+ has another great feature, which is the front, rear, and side LED lights. Compared to the other electric scooter, the scooter has an upgraded deck. Who should buy this scooter? This scooter is for people who expect a great riding experience. People who weigh 330 lb can also ride this scooter seamlessly.
Pros:
The emergency braking system uses disc brakes and can be very useful in emergency cases.
The LED gives extra visibility during the night time.
The deck is wide and long.
Cons:
The scooter is massive, and even if it has an excellent foldable design, the portability is challenging.
Dualtron III is a high performing electric scooter with a striking design. The motor is a MAX 3,600 watt BLDC dual hub motor. Similarly, 60 volt – 28 Ah – 1,658 Wh – LG 3500 celled batteries are present in the scooter. With a quick charger, the battery can be charged in around 2.3 hours but takes 6 hours with two charging ports.
The mileage is also excellent, 65 miles when you fully charge it, but the pace is okay that gets up to 40 mph. There are scooters with higher speed at this price. Dualtron III scooter has a climbing grade of 47% or 25 degrees, depending on rider weight and state of charge. Talking about the rider weight, the supportive weight is around 310lbs. The scooter has hydraulic brake calipers with ABS standard and 140mm discs to maintain all these extremes.
With all the adequate performance and design, the scooter weighs about 80 lbs. Suppose you are looking for a fun and fast scooter with a heavyweight limit for casual and competitive use. In that case, Dualtron III is a great choice. The scooter can handle any hefty max rider with an expansive and extended deck.
Pros:
The build and frame of the Dualtrom III are significantly improved compared to previous models.
The scooter comes with five different interchangeable cartilage modules.
It has a fingerprint scanner.
The battery is safe, and the scooter has increased water resistance.
The design is visually pleasing.
Cons:
The Dualtron III scooter is massive, so carrying it is difficult.
The scooter does not have any physical locks apart from fingerprints.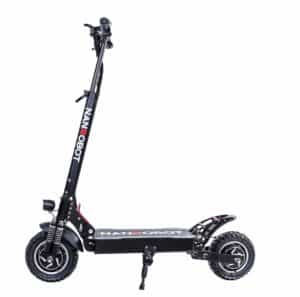 The NanRobot D4+ is a predecessor of the D5+ which is also an electric scooter for heavy adults. This scooter has a maximum user limit of 330 lbs. or 136kg and so meets our requirement for "Best electric scooter for 300lb man" compare. It is a versatile electric scooter that has been built for high performance as well as heavy adults.
Like other NanRobot electric scooters, the D4+ is powered by a pair of very powerful 1000W motorized motor fitted both on the front and rear wheels. There is an option however to use either one or both of the motors. These powerful motors enable a top speed of a whopping 40mph or 64kph making it one of the fastest electric scooters in the world.
This dual-motor system isn't only for speed. It is also responsible for the long-range of distance this scooter can cover. With a range of 62 miles, this is one of the longest ranges in electric scooters today.
To power the electric scooter, there is a rechargeable lithium-ion battery with a capacity of 23Ah. And this isn't even the icing on the cake. This powerful battery only needs 3 hours to charge from dead to a full charge (100%). All these features enable this scooter to comfortably carry a 330lbs person which is our main goal.
The Nanorobot D4+ has large wheels that are built for off-road riding. They come along with six shock absorbers split between them. The front wheels have four absorbers while the rear has two. They provide the most comfortable and stable ride for the rider.
But these features also work against the weight of this electric scooter. Weighing 70 pounds, it will be a problem carrying this scooter in your arms. Other features include an LCD display that shows all the necessary details such as riding mode and battery life among others. There is also a USB charging port and LED lights for riding at night. The following are its pros and cons.
Pros:
It is a great choice for any heavy adult not exceeding 330lbs or 136 kilos
The scooter has two powerful motors that provide 1000 Watts each
This is one of the fastest electric scooters with a top speed of 40 miles per hour or 62 kph
It has a very long range of 62 miles
The NanRobot also features a suspension system made up of six shock absorbers with four at the front and two at the back
It has huge 11-inch wheels that provide a nice comfortable ride and enable off-road riding
The battery only takes 3 hours to charge
The LCD display is bright and clear even on a sunny day
Cons:
It is expensive
It is heavy and weighs about 70 pounds
QIEWA Q Power – Double Motors Off-Road Scooter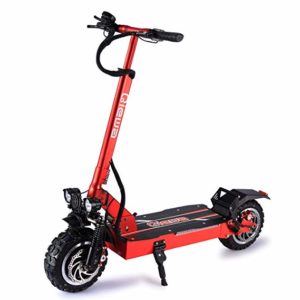 The Q Power electric scooter is a high-end premium electric scooter with the best features an electric scooter can offer. It also has an astounding 660lbs. user capacity which translates to 300kgs. These premium features are responsible for the high price tag that comes with this scooter.
The Q Power has the best features and among them is the powerful motors that propel this little thing. It is equipped with a pair of 1600 Watt motors that propel the scooter to speeds of up to 55 miles per hour or 88kph. This is extremely fast for a scooter, making this the fastest electric scooter there is for heavy adults.
These two motors are powered by a 26 Ah rechargeable lithium-ion battery. The battery is responsible for the long-range this scooter has. It is able to travel 56 miles or 90 km on a single full charge which is very impressive. Driving at top speed, you can get an hour out of this small beast.
There is also a battery conservation mode that enables your battery to last longer. As we know now, many scooters with powerful batteries take a long time to fully charge, sometimes, even half a day. The Q Power however has a special charging system that allows it to charge much faster.
The Q Power was designed for off-road use and because if this, is one of the most durable scooters out there. The fact that it can carry a person who's over 600 lbs. requires it to be robust and sturdy. To hold everything together, it is fitted with 11-inch pneumatic tires perfect for off-roading.
All these great features make the scooter quite heavy weighing 37kgs. The following are some of the upsides and downsides of the Q Power electric scooter
Pros:
It is the fastest electric scooter for heavy people with a top speed of 55mph or 88kph
The Q Power Double has one of the highest weight capacity at 660lbs.
The scooter comes with powerful motors that enable off-road riding
It features single and double motor switching
It has 11 inch long wheels that provide a comfortable and stable ride even on rough terrain
The device has a large battery that can last an extremely long range of 56 miles which translates to 90km
With a weight limit of 660lbs, it is able to comfortably accommodate the majority of the heavy adults out there
The LCD display is bright and clear even on hot sunny days
Cons:
It is quite heavy at 37kgs. This makes it difficult to carry it around when the need arises
The Q Power Double is quite expensive due to the wide range of features it comes with
Even with the high price, you have to pay extra for the detachable seat option and the cover
Conclusion
When selecting the best electric scooter for 300lb man, you should mainly consider the speed, weight, range, and motor power. This is because the scooter needs more power to carry a heavy person. The price is also an important factor. For this list, we provide the perfect balance between these factors. If you're not on a budget, however, we recommend the Q Power Double and the D4+ electric scooters.