Having an electric scooter that can climb hills means you can handle any kind of terrain at a moderate speed. This "best electric scooter for climbing hills" review, examines such kinds of scooters based on various factors and we tell you which one is the most powerful.
Electric scooters are soon replacing motor vehicles for commuting to work. For one, you do not have to worry about rising gasoline prices. Secondly, electric scooters are environmentally friendly. For some people, you have lived on the myth that you can only use your electric scooter only on flat surfaces. This is simply not true. Battery innovations have led to the development of powerful motors that enable scooters to hit speeds of up to 30 mph and have the ability to climb hills.
Scooters are a great innovation to get you to work or grocery shop while you absorb your surroundings. When done traveling, simply fold your scooter for the next adventure. However, not all scooters can handle hilly terrain. This buying guide examines some of the best electric scooters for climbing hills and we tell you which one is the best.
Enjoy!!!
How best electric scooters for climbing hills compare
| Model | Power (Watts) | Speed (mph) | Check on Amazon |
| --- | --- | --- | --- |
| | 2000 | 40 | |
| | 3200 | 56 | |
| | 1600 | 30 | |
| | 800 | 30 | |
| | 1800 | 30 | |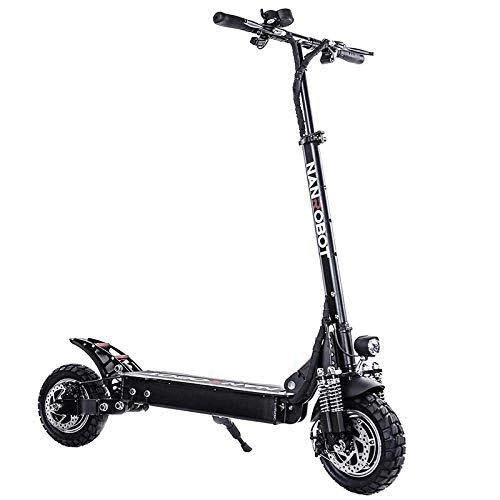 If you are thinking of taking your scooter off-road then what better way to do this than with the NANROBOT D4+. We are including in the first position for our review "best electric scooter for climbing hills". Firstly, the scooter is all-wheel-drive so no worry about skidding and get stuck in muddy terrain. Two powerful motors that churn a combined output of 2000W supply power. The 52V23.4AH lithium battery is capable of pushing the scooter to a top speed of over 40 mph and run for 40 miles.
The two independent motors will require an average of 8 hours charging time and will last you for up to 3 years. The scooter can easily tackle 30-degree hills courtesy of brushless motors. At high speeds, you can bring the NANROBOT D4+ to a halt through a dual disk braking system.
The scooter frame is made from aluminum and the scooter has a height of 48 inches. You get a detachable seat for long trips and it can support up to 330 pounds. Riding on hilly terrain can be frustrating if you do not have the right tires. The NANROBOT comes with large 10" pneumatic tires and 5 shock absorbers. This makes it adapt to any terrain you throw at it. The scooter is easily foldable for the next trip. Lastly, the scooter comes with an LCD screen that informs how fast you are going, the distance covered, and how much battery power is remaining. You can choose from eco or turbo depending on how fast you want to go.
Pros
Powerful motors allow it to handle any terrain
Shock absorbers for bumpy rides
High speeds of up to 40 mph
IP53 water-resistant
Cons
The scooter is a bit heavy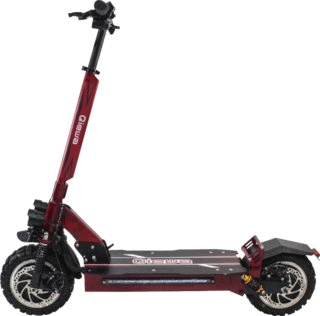 The first thing you notice about this scooter is how rugged it looks. Under the scooter is a dual motor construction that is capable of delivering 3200 watts total output; this is enough to handle any 45-degree hills you come across. The QIEWA can reach a top speed of up to 56 mph – which is pretty fast even for daily commutes. You can ride the scooter for up to 62 miles before your next recharge.
The scooter comes with three ride modes that enable us to choose between speed and saving battery power. You can switch to the Eco turbo mode for average speeds when you are running low on power or switch to a faster mode for torque and power. To handle this high speed, the QIEWA is equipped with double hydraulic brakes on the front and rear. This will help it come to a complete halt even under high speeds.
To ensure a comfortable ride in spite of the terrain, the scooter comes with large 11-inch wheels that are meant for off-road capabilities. You also get dual shock absorbers to handle any terrain. The scooter is made from a durable aluminum frame that can handle large weights. it allows you to adjust the handle to accommodate your height. You can ride in the dark courtesy of two powerful LED lights. You also find the anti-theft alarm with remote control coming in handy should you pack your scooter at a mall.
Pros
Powerful motors can handle 45-degree hills
Anti-theft alarm
Powerful large wheels for varying terrain
Front and rear lights for riding at night
Cons
Takes time to fully charge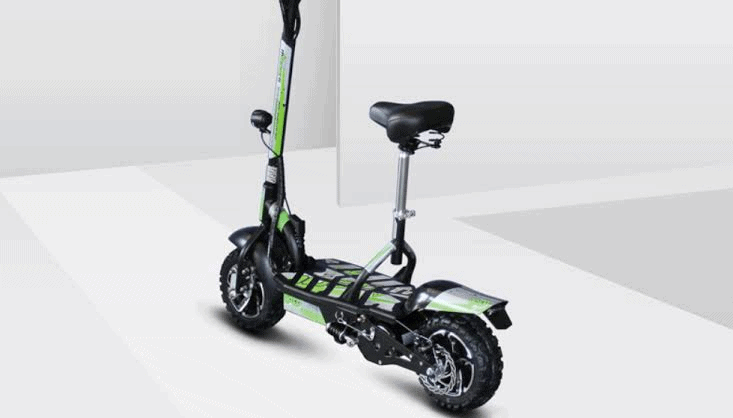 Many people have never heard of UberScoot but the company has risen the ranks to be a reputable company known for producing high-quality products. If you are planning on taking on the hills with your scooter then your first consideration should be power. Unlike flat roads, hilly terrain can be daunting with all the rocks and rough surfaces. The UberScoot comes with a powerful 1600W motor to handle just that. On flat terrain, you can hit speeds of up to 30 mph courtesy of the motor. The scooter can handle uphills of an angle of 25 degrees.
The power is supplied to the large 11" pneumatic tires through a chain drive system that comes with a variable throttle to adjust your speed. To limit draining your battery power fast, the UberScoot comes with an economy mode that allows you to ride at average speeds when low on power. To enable you to bring the scooter to a halt at high speeds you have a dual front and rear double braking system. You also get front and rear headlights for those moments you are riding in the dark.
The pneumatic tires are large enough to absorb vibrations in bumpy roads and provide you with a smooth ride in spite of the terrain. You also get a detachable seat to help you along with long rides. It comes with a quick-release for easy detachment. The UberScoot is your companion for off-road escapades. It is easily foldable and can support weights of up to 265 lbs. The recharge time is 6 to 8 hours.
Pros
Economy mode to conserve on power
Large 11" pneumatic wheels
Double braking system
Detachable seat with a quick-release mechanism
Cons
Not waterproof so you need to be careful exposing it to rain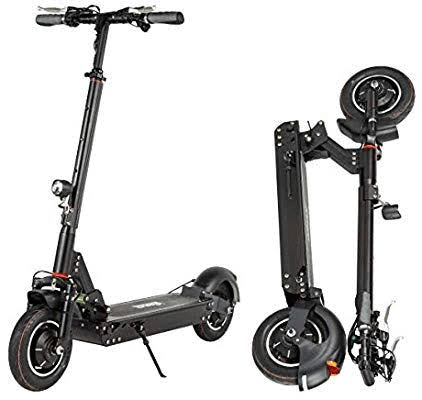 Firstly, this scooter is IP54 water-resistant meaning you do not have to worry much about the rain. The FreegoUSA delivers 800W of power through a brushless motor that enables it to hit speeds of 30 mph. The scooter uses a Freego uses Lithium-ion 48V battery that has a capacity of 10.3 Ah. To fully charge it you will require 6 hours. If you are using it for commuting then you can leave it charging during the night and wake up to a full charge. This will give you a range of 20 to 30 miles depending on your speed.
One of the challenges of hilly terrain is that it is also uneven. This can lead to a bumpy ride if you have the wrong tires. The Freego can handle steep hills of up to 30-degree decline. The 10" pneumatic tires do an amazing job of absorbing shock and you can know how fast you are going or how much charge you have on your battery through its LCD display.
The braking system is modest courtesy of 140mm rear brakes that will bring the scooter to a halt whenever you want. You can change speeds by choosing either the single or double motor option. The Freego is IP54 water-resistant so you do not have to worry about getting caught up in the rain. The supported weight for this scooter is 264 lbs.
Pros
Modest charging time
Single or double motor option
Handles 30-degree hill decline
Large 10" pneumatic tires
Cons
You don't get the option of a seat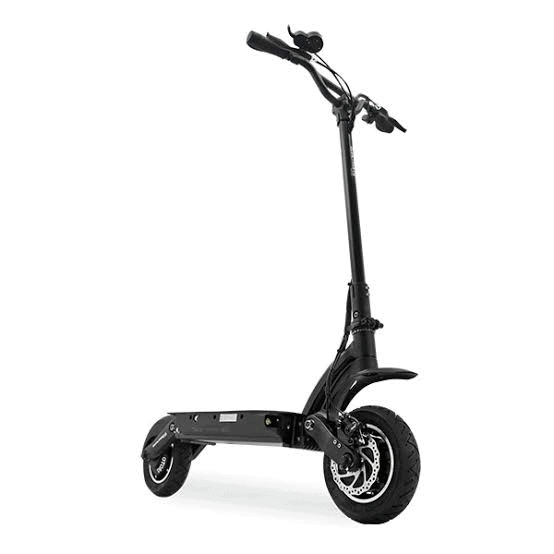 One thing you need the most when handling hilly terrain is a powerful motor. So keeping in mind this we included Dulatron II S on our "Best electric scooter for climbing hills" review. The Dualtron is equipped with a BLDC Dual hub motor that is capable of delivering a maximum output of 1800W; this enables it to reach a top speed of 30 mph. You also get a range of 50 miles from the 60V 1065 Wh battery. The battery comes with 3 auxiliary charging ports; the 2A will fully charge the scooter in 8 hours, the 4A in 5 hours, and 6.5A in roughly 3 hours.
When it comes to handling rough terrain with minimal vibrations, the scooter is equipped with 10" wide tube tires with mudguard on the front wheels. This helps you exploit muddy terrain without worrying about been splashed with mud. The large wheels are complemented by a high impact integrated suspension system. The forged alloy swing arms provide you with a comfortable ride and make it safe to travel at higher speeds on flat roads.
When you are tired of riding your scooter, you can use the two touch folding mechanism to store it away. The braking system is a dual-disc and electric brake. Both are work simultaneously hence giving you more stopping power. For safety, you have a brake light, LED headlight, and taillight. You can check distance traveled, speed, or battery life from the LCD screen.
Pros
Adjustable speed
3-way auxiliary charging ports
Dual disc and electric braking system
Mudguard for off-road riding
Cons
Heavier than comparable models
Buying Guide for the Best electric scooter for climbing hills

Thinking of getting yourself an electric scooter that can handle hilly terrain, then you may want to consider the following factors in your purchase.
Climbing angle
This is essentially why you are purchasing a scooter for climbing hills. The power generated by your motor will influence how well the scooter is capable of performing uphill. Most scooters can comfortably handle 20 degrees with some even having a climbing angle of 45 degrees – which is quite steep.
Motor
The scooter can handle flat terrain with ease without consuming so much power. But, when it comes to hilly terrain then things change as you need a powerful motor to propel you upwards. Remember you are riding against gravity. Small scooters with 500 watts can handle small ascents but it you want to do steep hills then go for those with more than 1000 watts. The charging system should also be fast enough. Some scooters will come with auxiliary ports that give you the option for fast and slow charging. If you find one with various driving modes the better; a driving mode like turbo and economy allows you to switch when going fast or when you want to consume less power.
Tires
Tires provide you with traction and grip when you are navigating rainy or muddy areas. Large wheels help to propel the scooter forward with ease. They also act as shock absorbers when you are navigating rocky terrain. When purchasing scooter tires go for 8" and above; if you can find pneumatic tires the better.
Portability
People purchase scooters for various reasons. Those who use them purely for recreational purposes, others for getting them to school or commuting to work. If you are going to be using your scooter daily for commuting then ensure it is portable and easy to fold. Such a scooter can easily be tacked away in the locker or at the office.
Conclusion
Scooters are a great way to move around when you are tired of using your motor vehicle. They are lightweight and portable making them ideal for commuting to school or work. While most scooters will handle flat terrain with ease, very few can handle hilly terrain. We tried to analyze all the best options on our "Best electric scooter for climbing hills" Review. This necessitates one to select a scooter that has more power to handle over 20-degree hilly climbs. Most of these scooters will come with a powerful motor that can deliver more than 1000 watts.