As you become a better and better rider and learn cool tricks on a scooter, you should look to upgrade to a scooter that matches your abilities. Today, there are a lot of companies making trick scooters all with hundreds of different features, and selecting the best one for you may be difficult.
To pick the best scooter for you, there are a few factors that should be taken into consideration. Some of these factors include the length of the bar, the weight limit, your own weight, and the deck size. There are pro scooters for both kids and young adults.
Apart from these, stunt scooters can be a great gift for your child or young relative. They are foldable and are a great long term investment.
Stunt scooters are different from regular electric scooters when it comes to their build and design. They are stronger to handle the stunts and faster to be able to perform them. In the following section, we are going to highlight the top trick scooters in the market today based on all the top factors: design, speed, material, wheels, and brakes.
Compare Best Scooter for Tricks
| Name | Weight | Maximum weight rider | Call to action |
| --- | --- | --- | --- |
| Fuzion Z250 Pro Scooter | 7.2 lbs | 220 lbs | |
| Apollo Pro Scooter | 8 lbs | 220 lbs | |
| Albott Pro Stunt Scooter | 7.8 lbs | 220 lbs | |
| Grit Fluxx Pro Scooter | 7.6 lbs | 200 lbs | |
| Fuzion Z300 Pro Scooter | 9 lbs | 220 lbs | |
| Phoenix Pilot Pro Scooter | 7.5 lbs | 220 lbs | |
| Royal Guard II Freestyle Scooter | 7.9 lbs | 220 lbs | |
| Fuzion X3 Pro Scooter | 8.5 lbs | 250 lbs | |
| Playshion Freestyle Pro Scooter | 8.3 lbs | 250 lbs | |
| Dominator Pro Scooter | 7.5 lbs | 250 lbs | |
| VOKUL K1 Pro Scooter | 8.6 lbs | 220 lbs | |
| Pulse Performance KR2 Freestyle Scooter | N/A | 140lbs | |
If your child has been bothering you for a stunt scooter, the Fuzion Scooter Z250 is a high-caliber yet safe choice to begin with. With useful, premium features and a comfortably large build, it will give your little rider a space to grow.
The X5 is ideal for riders who are only beginning their journey of stunts. The Fuzion Z250 has ABEC 9 bearings – the highest accuracy you can get! The scooter has a dark and teal outlook, which will probably grab the attention of anyone. The tires are a similar tone as the bike base, making the scooter stylish and smooth. The deck is covered with grip tape, ideal for doing stunts, and there is a "Z" logo for Fuzion directly in the middle of the deck.
Pros
Concave Deck
Aluminum body
Durable and long-lasting scooter
Nylon Brakes
Lightweight
155 mm Hex grips
Cons
Apollo Pro Scooter – Compatible Tricks Scooter for Girls
The 60V Apollo Pro is one of the elite scooters with premium features. The scooter is built from forged aluminum with a strong stem, sporty lines making it an excellent scooter for tricks. The durable build is the selling point of the scooter. The Apollo Pro balances both force and solace with magnificent speed, top-tier suspension, 25.4-cm pneumatic tires, extensive decks, and an awe-inspiring brakes system.
It is incredible and versatile. The ride is smooth with 10-inch, air-filled tires and double spring stun suspension, and wide handlebars that keep stuns starting from the earliest stage. During rain, or if you are letting someone try your scooter, you can easily opt for either the single motor mode or the Eco mode in the Apollo scooter.
Pros
Dual swingarm suspension design
High Acceleration speed
Rear hydraulic shocks
Cruise Control
Safe and excellent build
Cons
The lights are not appropriate for city traffic and dark
If you are looking for a beginner-friendly Scooter for tricks, the Albott stunt scooter is your companion. The excellent stunt scooter will quench your thirst for the perfect scooter. The bike includes a high-grade military strength aluminum skeleton.
The scooter has a design to enhance the riding experience of the user. This bike is easy to use for beginner riders. Its high-strength handlebars shaped with comfort grip offer a decent vibe when riding. The handlebars are detachable as well.
The deck is adequately strong to carry grown-up adults. It can support 220 lbs(99.79 kg) and features a convenient and safe brake system.
Pros
Lightweight structure for stunts
PU and PC wheels
Compression System
Tensile handlebars
Wheels have a seven-spoke design
Cons
Noisy brakes
Brakes can stop working suddenly

The Grit Fluxx Pro scooter is an Australian made scooter for children above 6 years old. It is suitable for riders between the height of 4 ft. and 5.5 ft. When you first lay eyes on this scooter, you will notice its colorful and sporty feel. The wheels are bright green in color and it features a wide low deck.
It is also a small scooter perfectly made for intermediate users looking to go pro and pro users. The Grit Fluxx has a strong and sturdy build that is made from a steel alloy. The deck is made from military-grade aluminum metal and is really wide at 4 inches in width.
This was done to provide the rider with more balance and comfort as they skate. The fork or neck is made from hi-tensile steel to ensure it is strong and more importantly, light. The Grit scooter features two two-color wheels that measure 100mm each.
On top of these, the Grit comes with powerful brakes known as Grit Flex Fender Brakes that are quiet and don't rattle when pressed. This scooter comes in three main colors: black, black/green, and satin black/red.
Pros
It is a very light scooter and weighs just 7.67 lbs.
The Grit Flex Fender Brakes system works fantastic
The metal core wheels are strong and comfortable
The bar is perfectly balanced at an ideal height for young teens and adults
The deck is quite wide and provides amazing balance and support
Cons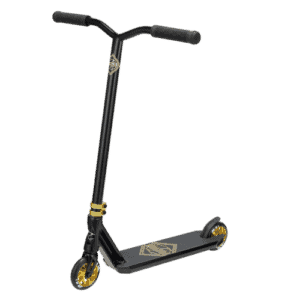 Fuzion is one of the biggest scooter manufacturers today. The Fuzion Z300 is regarded as the best pro scooter and it's not hard to see why. We decide to include on our Best Scooter for Tricks. Every component is made from very high-quality durable materials. The deck for example is made from tough aluminum material that has been reinforced to handle the impacts of stunts.
The deck is also angled at three degrees to keep the feet comfortable and flat. The Z300 is best suitable for intermediate and pro riders. The bottom side of the deck features flat rails. The rails are perfect for stunt grinding.
The Z300 has some superb metal core wheels made from similar material from the deck. The aluminum is strong as well as light. The wheels measure 100mm, ride smoothly, and provide great stability. It is great for kids over 8 years, teens, and young adults. It is also suitable for both boys and girls.
Pros
It has an amazing design
It is relatively light and weighs just 9 lbs.
Non-slip grips are quite comfortable
The brakes work superbly well
The handlebars are wide for stability
Cons
Users say that the fork weld is susceptible to cracking and breaking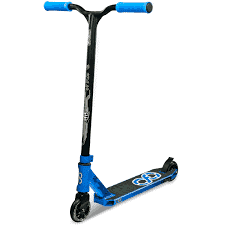 One of the best pro scooters to hit the market is the Phoenix Pro Scooter. Phoenix makes all types of scooters but this is perhaps their best work.
The Phoenix Pro scooter is a lightweight scooter that weighs just 7.5 lbs. When you first lay eyes on this scooter, you will notice the long neck it has that is meant to increase balance. This elongated neck carried the T style bars.
The bars are strong and are built to last as long as the scooter. This scooter is suitable for intermediate and pros users. However, it is also rated as a beginner suitable scooter. The deck is 4.5 inches wide and 19.5 inches long. This large deck ensures you're comfortable with one or both feet on it. It is also concave angled for better grip and balance.
As for the wheels, the Phoenix Pilot contains 100mm Alloy Aluminum metal core wheels with seven spokes each. The use of a metallic core ensures the wheels are powerful when performing stunts.
The urethane formula used to make the rest of the wheel ensures a smooth and fast ride. The Phoenix Flex Brake system also does a fantastic job of braking. The following are its pros and cons
Pros
It is suitable for all rider levels from beginner to pro riders
It is easy to assemble
The Phoenix Flex Brake system does a fantastic job when braking
It is a lightweight scooter that weighs just 7.5 lbs. for maximum portability
It offers great value for money
Cons
The extra-wide bars may be too wide for small-bodied riders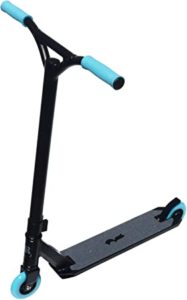 As the name suggests, the Royal Guard II is a great freestyle scooter. Unlike other pro scooters on our "Best Scooter for Tricks" list, this is a scooter exclusively for adults. This means that if you're looking for a scooter for your younger sibling or relative, this is not for them. It is built to be faster and stronger than kids' pro scooters.
The deck is made from light yet durable aluminum alloy for ultimate comfort. It is also an angled concave to provide support and balance for the rider.
When it comes to weight, this little scooter is light and weighs just 7.9 lbs. Its maximum carrying capacity is 220lbs. As we've said, the Royal Guard is a small router and has the following dimensions: 25.4 x 4.4 x 32.2 inches.
This together with the little weight make this scooter a very portable device. Other than this is available in three different colors: blue, grey, and red, all mixed with black.
Pros
The handlebar grip is made from high-quality rubber and feels amazing to the touch
It is quite affordable
It is made from strong aluminum material
The deck and elongated neck are made from durable heat-treated aluminum
It comes with very smooth ABEC bearings for longevity
Cons
It is not the best scooter for kids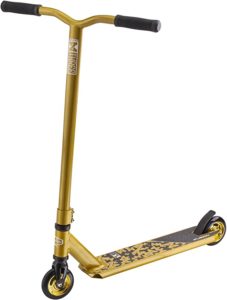 It is no surprise that there is another Fuzion scooter on this list. Fuzion makes amazing pro scooters and the X3 continues with this reputation. Released in 2018, the X3 pro scooter is a great purchase. It is best suitable for children over seven years and for teens.
The X3 features a maximum carrying capacity of 220 lbs. This goes to show that this scooter is exclusively for kids and young teens. The deck is four inches wide to accommodate both feet while riding as well as increase balance and stability. The Fuzion X3 Pro is a lightweight scooter and weighs just 8.5lbs.
The Fuzion X3 is quite easy to assemble for first-timers. There are only three bolts you tighten when assembling a unit. The handlebar is wide and measures 21.5 by 18 inches. It is made from hi-tensile steel meaning it is rather durable.
Other great features include excellent nylon fabric brakes, 100mm polyurethane wheels, and a super solid body that guarantees you will do stunts comfortably. It comes in six colors: gold, blue/green, red, teal, black/pink, and black.
Pros
It has a super solid body for durability
The ABEC bearings provide the smoothest of rides
It has a large color selection
The wide handlebar improves handling
It is quite easy to assemble
The wheels are solid and perfect for pro riding
Cons
The handlebars are not adjustable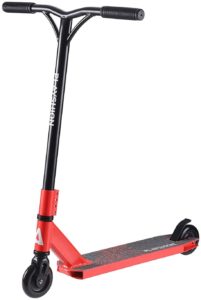 The Playshion scooter is the best scooter for anyone who wants to move from the intermediate level to the pro. It is powerful, easy to assemble, and quite fast at full speed. This scooter measures about 33 inches with a handlebar of 21 inches. This makes it the perfect choice for children above seven years.
Another great feature of the scooter is the 4 clamp bolts which accommodate the impacts of stunts and tricks. The weight limit for the Playshion is 250lbs meaning it's great for huge bodied people. The scooter has ABEC 9 bearings that provide a wonderfully smooth ride through the day.
Other features include 100mm wheels made from urethane material for comfort and a smooth ride. The Playshion scooter is light and weighs just 8.26 lbs. it is also easy to assemble the three pieces it comes as.
Pros
It is relatively light and weighs just 8.26 lbs.
It has very comfortable non-slip grips
The brakes work superbly well
Comes in a great design
The handlebars are wide for stability
The ABEC 9 bearings provide a very smooth ride through the day
Cons
It is not as fast as other pro scooters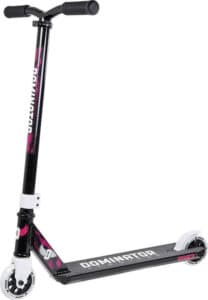 The Dominator Pro Scooter is a scooter for the expert level scooter rider. It features a wide deck that measures 4.5 inches in width and 19.5 inches in length. This ensures that it is stable.
The deck comes in a concave shape that helps in providing a better grip. Furthermore, the handle T-bar comes from durable steel material. It is located 23 inches above the ground and is 22 inches wide. The Dominator scooter comes with a maximum rider capacity of 250lbs.
A great plus of the Dominator is that it comes with headsets when you buy them.
The wheels here are larger than the rest measuring 110mm with ABEC 7 bearing for the smoothest ride you will ever have on a scooter. The brakes are SST spring less brake meaning they are quiet. The Dominator is relatively light and weighs 7.5 lbs.
Pros
It comes with headsets to listen to music as you ride
It is one of the easiest scooters to assemble
The scooter is suitable for expert-level riders but intermediate users can also ride it
It has a lovely design and finishing
The Dominator has large 110mm wheels for comfort and stability
Cons
It is large and may have issues with portability
The VOKUL K1 is famous for its robust built and impressive design. It weighs only 8.6 lbs(3.9kg). It is one of the most lightweight stunt scooters you can find in the market. It is furnished with a Y-bar that is made using 6061 aeronautics grade aluminum.
The handlebar measures 22.3″ x 22.3″ in length and width and designed with anti-slip and TPR grips. The deck has a non-slip surface that gives riders a stronghold while riding. The center of this VOKUL bike is built using CNC-shaped aluminum, making it convenient for difficult and expert stunts.
The VOKUL Complete Pro stunt bike has a 110 mm aluminum core. The wheels provide a smooth and comfortable ride even on rough roads.
Pros
The scooter comes pre-assembled
triple bolt clamp
Carry up to 220 lbs. of weight
88A high rebound wheels
High-grade aluminum build
Cons
If you want a safe option for stunts, a pulse performance scooter is the best choice for you. It has a design to ensure optimum safety and comfort during stunts and tricks. It features oversized handlebars to give a more extensive range of movement. For a newbie, this particular feature is beneficial.
A scooter is a good option for both adults and children. The pulse performance scooter has impressive solid core urethane wheels with ABEC-5 bearings. It is safe to ride it on irregular, rocky paths and roads. If you want an affordable and classy option, pulse performance should be your go-to choice. It is built in an efficient way for beginners to handle excessive abuse in training.
Pros
Heat-treated reinforced 6000 series aluminum deck
Durable and steady
Flat, spring-steel rear brake
Easy to install
Affordable for people on savings
Cons
The scooter is heavy as it weighs 140 lbs.
Which is Best Scooter for Tricks
These two scooters are best among other scooters when it comes to tricks.
Fuzion Z250 Pro Scooter
The Fuzion Z250 Pro Scooters is an entry-level pro scooter with a non-abrasive design for tricks.
It has excellent features such as a brand-new deck. The smooth bottom has rails perfect for grinding.
The riser bars are made from premium quality Chromoly steel.
The scooter has environmentally-friendly nylon brakes.
VOKUL K1 Pro Scooter
The VOKUL L1 Pro scooter is the great scooter available in the market for stunts.
The deck is made of 6061 aircraft aluminum that is strengthened with heat-treated forged plates.
The batwing bar is built from 4130 Chromoly with Triple Clamp for steadiness and security.
It is a powerful yet lightweight Scooter.
Most Compatible Scooters for Tricks for Girls:
Apollo Pro Scooter
The Apollo pro scooter is ideal for young boys and girls. It is lightweight yet robust enough to perform stunts efficiently. It is a water resistance scooter with excellent battery life and range. The Apollo scooter can make bug jumps easily and can do a massive climb in only 8 seconds with an average speed of 29.0 km.
Albott Pro Stunt Scooter
The Albott Pro Stunt Scooter features impressive wheels with 3.9 inches, perfect for professionals and beginners. The unique design of wheels ensures safe landings making it the most compatible scooters for tricks for Girls. The scooter features a 31.5mm Alu triple clamp. It is the most secure and safe scooter you can find on the market.
Fuzion Z250 Pro Scooter
The Fuzion Z250 Pro Scooter flaunts a robust design with a 19.5″ long and 4.25″ comprehensive 6061-T6 aircraft-grade aluminum deck. It is an ideal competitor for the most dynamic riding styles.
The scooter highlights top features at an affordable price. It has an alloy triple bolt clamp and high malleable steel bars for top-level safety.
Buying Guide for Trick Scooters:
Before you invest in a trick scooter, we have some suggestions for you:
YouTube Videos:
Almost all scooters have video reviews on YouTube. You can watch those videos to ensure the efficiency of the scooters. The videos include clips of professionals doing stunts; hence, they will help you learn about the stunt scooters.
Internet Articles and Blogs:
The internet articles and blogs include complete information about these stunt scooters. From power engines to design, they discuss each and everything. You can read these articles for complete and detailed information.
Customer Reviews:
Head over to sites like Amazon, Dicks Sporting Goods, and others, type down a scooter's name and read customer reviews. Customer reviews are concise yet correct. They even describe the cons of the scooters in detail.
What is the difference between a kick scooter and a stunt pro scooter?
Kick Scooter:
A kick scooter is, in general, mechanically or battery operated. It is relatively small and lightweight. Even the best kick scooter will have short-range and medium-speed features. The motors will have adequate power but won't be able to last for a long time. You can fold a kick scooter and keep it under your desk and at the back of your car's trunk.
Stunt Scooter:
A stunt scooter is sturdy and durable. It is built specifically for performing stunts at a skateboard ring. You cannot fold the stunt scooter. The speed and motor power of stunt scooters are quite impressive. They can cover more distance as compared to kick scooters. A stunt scooter isn't suitable for daily commuting or hikes.
What should you look for in a stunt-pro scooter?
It would help if you looked for the following features in a stunt pro scooter:
Strength and brake system
Security and safety features
Length of deck and handlebars
Speed and range
What is the best scooter for skateparks?
Following are some of the best scooters for skateparks:
– Apollo Pro Scooter
– Albott Pro Stunt Scooter
– Fuzion Z250 Pro Scooter
– VOKUL K1 Pro Scooter
What tricks can you do on a scooter?
You can do the following tricks on a scooter:
Bunny Hop
Fakie
One hander or no hander
No Footer
Nollie
Why should scooters be banned from skateparks?
Some people believe that skateparks are not safe enough for scooters. Skateboarders believe that scooters might damage the skating rings with their heaving scooters.
But a professional stunt pro rider knows tricks and techniques to perform stunts safely. The stunts are considered risky for the rider and the people around him.
Why do skaters hate scooter riders?
Skaters envy scooter riders because they feel scooters are invading their place; the skateparks. If scooter riders had their parks and spaces, skaters wouldn't feel threatened by them.
Scooter Tricks for Beginners:
Bunny Hop:
The bunny hop is a safe and comfortable trick to learn. You do whips and grinding on the focal point of the scooter in this one.
Nollie:
A nollie is a stunt you can perform with some practice. You make a jump with the deck while jumping with your feet in the air.
No footer:
The name of this trick is pretty explanatory. You ride the scooter in a way that seems dangerous, but it is effortless to master the trick. While riding the scooter, you take both feet off the deck and jump in the air. Remember to land back on the deck, or it will be a problem.
One hander:
In this trick, you ride the scooter with only one hand while the other hand is in the sky or at your back. It is best to keep it to maintain the balance.
Bar spin:
You spin the handlebar 360 degrees from your strong hand and catch it back after completing the circle.
Do's and Don'ts of scooters:
Do's:
Maintenance of your Scooter: The maintenance of your scooter is vital. No matter how durable your scooter is, it will damage if you don't maintain it properly.
Make sure the battery is fully charged: Before you go for a ride or stunts, charge your battery to 100%. Always double-check your battery before going for a ride. You don't want the battery to run out in the middle of the stunt.
Always wear safety gear while riding a scooter to be safe from accidents.
Lubricate the moving parts of your Scooter: Lubricate the Scooter wheels properly to eliminate unnecessary friction.
Don'ts
Overcharge your battery: If you overcharge the battery of your scooter, it can malfunction.
Expose scooter to water: To avoid any malfunctions in your scooter, protect your scooter from water and rain.
Push-ride the Scooter: If you push to ride the scooter, the wheels may damage.
Helmets:
A helmet protects your skull and brain from any injury. It lowers the impact of a fall and cushions the head against force.
Knee Pads:
Knee Pads are an essential part of safety. Your knees are prone to injury and can become permanently disabled.
Elbow Pads:
An injury to your elbow alone can damage your whole arm. It is essential to wear your elbow pads.
Wrist Straps:
Wrists Straps not only safeguard your wrists, but they also help you keep balance while performing tricks. Hence, it is essential to wear them.
What will happen if I don't wear a safety guard?
You will get serious injuries that can disable you permanently. Some skateparks don't even allow entry if you are not wearing safety gear. It is imperative to wear safety gear.
Where do I buy safety gear?
You can buy safety gear from a nearby sports store or online.
How do I learn scooter tricks?
You can learn the tricks by practice. Make sure you have someone nearby to help you when you are practicing the stunts.
At what age, my child can perform stunts?
Your child can start learning tricks after the age of 8. Keep them under your supervision and explain the safety protocol to them.
We have talked about the best scooter for tricks in this blog. Make sure to read the article thoroughly to understand everything correctly. And only choose the scooter for tricks which suits you the best.
When looking for the best pro scooters, consider the following factors: grip, handlebars, fork, clamp, deck, height, and scooter weight. The best scooter for you is the one that fits all your needs. However, for the best scooter for tricks, we recommend the Fuzion X3. It is not only robust but also very affordable and suitable for teens and young adults.