As you become a better and better rider and learn cool tricks on a scooter, you should look to upgrade to a scooter that matches your abilities. Today, there are a lot of companies making trick scooters all with hundreds of different features and selecting the best one for you may be difficult.
To pick the best scooter for you, there are a few factors that should be taken into consideration. Some of these factors include: the length of the bar, the weight limit, your own weight, and the deck size. There are pro scooters for both kids and young adults.
Apart from these, stunt scooters can be a great gift for you child or young relative. They are foldable and are a great long term investment.
Stunt scooters are different from regular electric scooters when it comes to their build and design. They are stronger to handle the stunts and faster to be able to perform them. In the following section, we are going to highlight the top trick scooters in the market today based on all the top factors: design, speed, material, wheels and brakes.
Compare Best Scooters for Tricks
| Name | Weight | Maximum weight rider | Call to action |
| --- | --- | --- | --- |
| Grit Fluxx Pro Scooter | 7.6 lbs | 220 lbs | |
| Fuzion Z300 Pro Scooter | 9 lbs | 220 lbs | |
| Phoenix Pilot Pro Scooter | 7.5 lbs | 220 lbs | |
| Royal Guard II Freestyle Scooter | 7.9 lbs | 220 lbs | |
| Fuzion X3 Pro Scooter | 8.5 lbs | 250 lbs | |
| Playshion Freestyle Pro Scooter | 8.3 lbs | 250 lbs | |
| Dominator Pro Scooter | 8.5 lbs | 250 lbs | |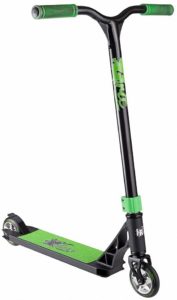 The Grit Fluxx Pro scooter is an Australian made scooter for children above 6 years old. It is suitable for riders between the height of 4 ft. and 5.5 ft. When you first lay eyes on this scooter, you will notice its colorful and sporty feel. The wheels are bright green in color and it features a wide low deck.
It is also a small scooter perfectly made for intermediate users looking to go pro and pro users. The Grit Fluxx has a strong and sturdy build that is made from steel alloy. The deck is made from military grade aluminum metal and is really wide at 4 inches in width.
This was done to provide the rider with more balance and comfort as they skate. The fork or neck is made from hi-tensile steel to ensure it is strong and more importantly, light. The Grit scooter features two two-color wheels that measure 100mm each.
On top of these, the Grut comes with powerful brakes known as Grit Flex Fender Brakes that are quiet and don't rattle when pressed. This scooter comes in three main colors: black, black/green and satin black/red.
Pros
It is a very light scooter and weight just 7.67 lbs.
The Grit Flex Fender Brakes system works fantastic
The metal core wheels are strong and comfortable
The bar is perfectly balanced at an ideal height for young teens and adults
The deck is quite wide and provides amazing balance and support
Cons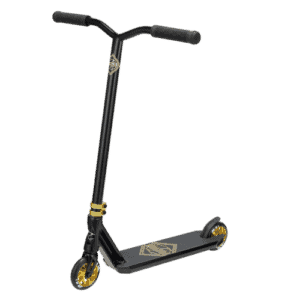 Fuzion is one of the biggest scooter manufacturers today. The Fuzion Z300 is regarded as the best pro scooter and it's not hard to see why. We decide to include on our Best Scooters for Tricks. Every component is made from very high quality durable materials. The deck for example is made from tough aluminum material that has been reinforced to handle the impacts of stunts.
The deck is also angled at three degrees to keep the feet comfortable and flat. The Z300 is best suitable for intermediate and pro riders. The bottom side of the deck features flat rails. The rails are perfect for stunt grinding.
The Z300 has some superb metal core wheels made from similar material from the deck. The aluminum is strong as well as light. The wheels measure 100mm, ride smoothly and provide great stability. It is great for kids over 8 years, teens and young adults. It is also suitable for both boys and girls.
Pros
It has an amazing design
It is relatively light and weight just 9 lbs.
Non-slip grips are quite comfortable
The brakes work superbly well
The handlebars are wide for stability
Cons
Users say that the fork weld is susceptible to cracking and breaking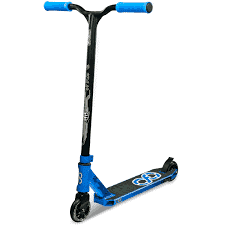 One of the best pro scooters to hit the market is the Phoenix Pro Scooter. Phoenix makes all types of scooters but this is perhaps their best work.
The Phoenix Pro scooter is a lightweight scooter that weighs just 7.5 lbs. When you first lay eyes on this scooter, you will notice the long neck it has that is meant to increase balance. This elongated neck carried the T style bars.
The bars are strong and are built to last as long as the scooter. This scooter is suitable for intermediate and pros users. However, it is also rated as a beginner suitable scooter. The deck is 4.5 inches wide and 19.5 inches long. This large deck ensures you're comfortable with one or both feet on it. It is also concave angled for better grip and balance.
As for the wheels, the Phoenix Pilot contains 100mm Alloy Aluminum meal core wheels with seven spokes each. The use of a metallic core ensures the wheels are powerful when performing stunts.
The urethane formula used to make the rest of the wheel ensures a smooth and fast ride. The Phoenix Flex Brake system also does a fantastic job for braking. The following are its pros and cons
Pros
It is suitable for all rider levels from beginner to pro riders
It is easy to assemble
The Phoenix Flex Brake system does a fantastic job when braking
It is a lightweight scooter that weighs just 7.5 lbs. for maximum portability
It offers great value for money
Cons
The extra wide bars may be too wide for small bodied riders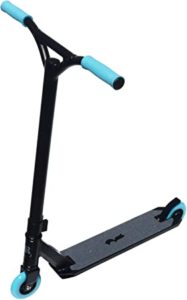 As the name suggests, the Royal Guard II is a great freestyle scooter. Unlike other pro scooters on our "Best Scooters for Tricks" list, this is a scooter exclusively for adults. This means that if you're looking for a scooter for your younger sibling or relative, this is not for them. It is built to be faster and stronger than kids' pro scooters.
The deck is made from light yet durable aluminum alloy for ultimate comfort. It is also angled concave to provide support and balance for the rider.
When it comes to weight, this little scooter is light and weight just 7.9 lbs. Its maximum carrying capacity is 220lbs. As we've said, the Royal Guard is a small router and has the following dimensions: 25.4 x 4.4 x 32.2 inches.
This together with the little weight make this scooter a very portable device. Other than this is available in three different colors: blue, grey and red, all mixed with black.
Pros
The handlebar grip is made from high quality rubber and feels amazing to the touch
It is quite affordable
It is made from strong aluminum material
The deck and elongated neck are made from durable heat treated aluminum
It comes with very smooth ABEC bearings for longevity
Cons
It is not the best scooter for kids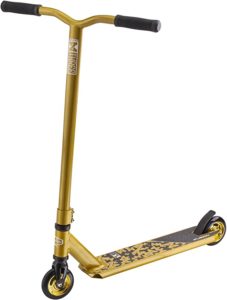 It is no surprise that there is another Fuzion scooter on this list. Fuzion makes amazing pro scooters and the X3 continues with this reputation. Released in 2018, the X3 pro scooter is a great purchase. It is best suitable for children over seven years and teens.
The X3 features a maximum carrying capacity of 220 lbs. This goes to show that this scooter is exclusively for kids and young teens. The deck is four inches wide to accommodate both feet while riding as well as increase balance and stability. The Fuzion X3 Pro is a lightweight scooter and weighs just 8.5lbs.
The Fuzion X3 is quite easy to assemble for first timers. There are only three bolts you tighten when assembling a unit. The handlebar is wide and measure 21.5 by 18 inches. It is made from hi tensile steel meaning it is rather durable.
Other great features include excellent nylon fabric brakes, 100mm polyurethane wheels and a super solid body that guarantees you will do stunts comfortable. It comes in six colors: gold, blue/green, red, teal, black/pink and black.
Pros
It has a super solid body for durability
The ABEC bearings provide the smoothest of rides
It has a large color selection
The wide handlebar improves handling
It is quite easy to assemble
The wheels are solid and perfect for pro riding
Cons
The handlebars are not adjustable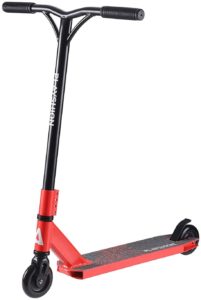 The Playshion scooter is the best scooter for anyone who wants to move from the intermediate level to the pro. It is powerful, easy to assemble and quite fast at full speed. This scooter measures about 33 inches with a handlebar of 21 inches. This makes it the perfect choice for children above seven years.
Another great feature of the scooter is the 4 clamp bolts which accommodate the impacts of stunst and tricks. The weight limit for the Playshion is 250lbs meaning it's great for huge bodied people. The scooter has ABEC 9 bearings that provide a wonderful smooth ride through the day.
Other feature include 100mm wheels made from urethane material for comfort and a smooth ride. The Playshion scooter is light and weigh just 8.26 lbs. it is also easy to assemble the three pieces it comes as.
Pros
It is relatively light and weight just 8.26 lbs.
It has very comfortable non-slip grips
The brakes work superbly well
Comes in a great design
The handlebars are wide for stability
The ABEC 9 bearings provide a very smooth ride through the day
Cons
It is not as fast as other pro scooters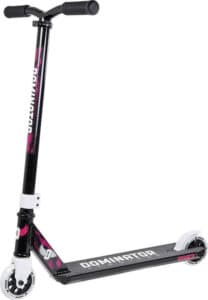 The Dominator Pro Scooter is a scooter for the expert level scooter rider. It features a wide deck that measures 4.5 inches in width and 19.5 inches in length. This ensures that it is stable.
The deck comes in a concave shape that helps in providing a better grip. Furthermore, the handle T-Bar comes from durable steel material. It is located 23 inches above the ground and is 22 inches wide. The Dominator scooter comes with a maximum rider capacity of 250lbs.
A great plus of the Dominator is that it comes with headsets when you buy them.
The wheels here are larger than the rest measuring 110mm with ABEC 7 bearing for the smoothest ride you will ever have on a scooter. The brakes are SST spring less brake meaning they are quiet. The Dominato is relatively light and weighs 8.5 lbs.
Pros
It comes with headsets to listen to music as you ride
It is one of the easiest scooters to assemble
The scooter is suitable for expert level riders but intermediate users can also ride it
It has a lovely design and finishing
The Dominator has large 110mm wheels for comfort and stability
Cons
It is large and may have issues with portability
Final Verdict
When looking for the best pro scooters, always consider the following factors: grip, the handlebars, fork, the clamp, deck, height and weight of the scooter. The best scooter for you is the one that fits all your needs. However, for the best scooters for tricks, we recommend the Fuzion X3. It is not only robust but also very affordable and suitable for teens and young adults.